Murder charges dropped against Tony Reed in deaths of Arlington couple; friend reacts


EVERETT, Wash. -- Murder charges against Tony Reed were dropped in the April slaying of an Arlington couple, and two counts of rendering criminal assistance were filed against him instead when an investigation showed he was not present at their deaths, court documents showed Tuesday.

He is expected to plead guilty to the reduced charges on Friday.

His brother, John Reed, is still charged with killing the couple, Patrick Shunn and his wife, Monique Patenaude. He is still on the run and is believed to be in Mexico.

Tony Reed, who had surrendered to authorities on the U.S.-Mexico border on May 16,  had early been charged with two counts of first-degree murder in the case, but new court documents showed that investigators discovered Tony apparently had not been at the slayings, but had assisted his brother in escaping authorities.

Tony Reed told investigators he had been hunting agates with two friends on April 11, when the couple were killed, and he only learned about the murders later that night when his brother John picked him up and returned him to the Arlington area.

"Police interviewed both the individuals whom Tony Reed indicated he had been hunting agates with on April 11," the documents said. "Both these individuals corroborated Reed's description of being with him."

The documents also said that Tony Reed "described how he and John hid the (slain couple's) vehicles ... and how and where the bodies of Patrick and Monique were buried."

Meanwhile, the parents of the Reed brothers were arrested in Ellensburg on Tueesday  for rendering criminal assistance in the first degree.

Clyde Reed, 81, and Faye Reed, 77, were taken into custody Tuesday at their home in Ellensburg without incident.

Detectives are also serving a search warrant on the property where they were arrested, said sheriff's spokesperson Shari Ireton.

"We absolutely will arrest anyone who has helped a murderer escape justice," said Sheriff Ty Trenary.

Ireton said the Ellensburg Police Department provided valuable help in serving the search warrant.

"The Sheriff's Office anticipates more arrests of various acquaintances of John Reed who have also allegedly rendered additional criminal assistance, Ireton said.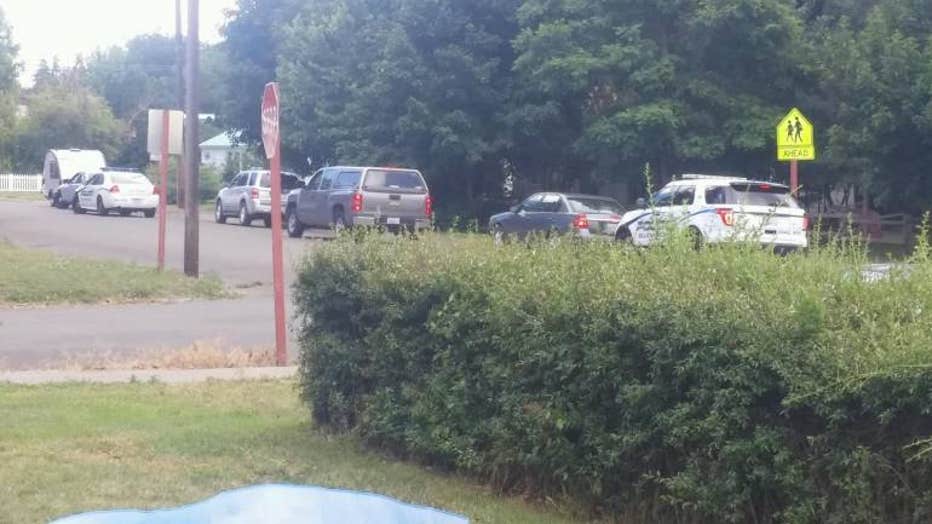 Authorities are still looking for murder suspect John Reed, who is believed to be in the Tijuana, Rosarita, or Ensenada areas of Mexico.

The US Marshals Service is offering a $5,000 reward for information leading to his capture and arrest. Two charges of first-degree homicide have been filed against Reed for the execution-style murder of Patrick Shunn, 45, and his wife, Monique Patenaude, 46.

John Reed is 5' 8", 190 pounds with hazel eyes and gray hair and is believed to be driving a 2002 Gold Acura 3.2 TL (Arizona plates BNN-9968). Deputies say he is believed to be armed and dangerous.

 

Anyone with information about the whereabouts of John Reed should call the Snohomish County Sheriff's Office anonymous tipline at 425-388-3845.

The sheriff's office released the following timeline of the investigation:

April 12 - Patrick Shunn and Monique Patenaude are reported missing to the Sheriff's Office by neighbors. Shunn was last seen at his workplace in Kirkland, Wash. on April 11. Patenaude was last seen around 1 p.m. also on April 11 near the couple's residence at the 27800 block of Whitman Road.

April 14 - Two vehicles belonging to Shunn and Patenaude are located in a remote, wooded area in the Oso area.

April 15 – Detectives conduct a thorough search of the vehicles and the area where they were located. The location of Shunn and Patenaude was still unknown at that time.

April 17 – Sheriff Ty Trenary announces that probable cause had been established for the arrest of the Reed brothers, who were suspected of murdering Shunn and Patenaude.

April 18 – One of the vehicles driven by the Reed brothers is located in Phoenix, Arizona. The Reed brothers are believed to have crossed the border into Mexico driving a 2002 Gold Acura 3.2 TL (Arizona plate BNN-9968).

April 20 – Several properties in Ellensburg, Wash. are searched by detectives, including the residence belonging to the parents of the Reed brothers, two storage units, and the residence of Tony Reed.

May 16 – Tony Reed is taken into custody at the US/Mexico border and booked into the San Diego County Jail.

May 20 & 21 – Tony Reed is transported and booked into the Snohomish County Jail.

May 24 – Two bodies are found in an area a few miles to the west of where Shunn and Patenaude's vehicles were located.

May 26 – The Snohomish County Medical Examiner identifies the bodies and determines the cause and manner of death. The cause of death for Patenaude was multiple gunshot wounds and for Shunn was a gunshot wound of the head. The manner of death for both was homicide.

May 27 – Sheriff's Office distributes "Wanted" posters in the Tijuana, Ensenada, and Rosarita areas of Mexico for the capture and arrest of John Reed.