Mudslide death toll still believed to be 24, but number of missing set at 90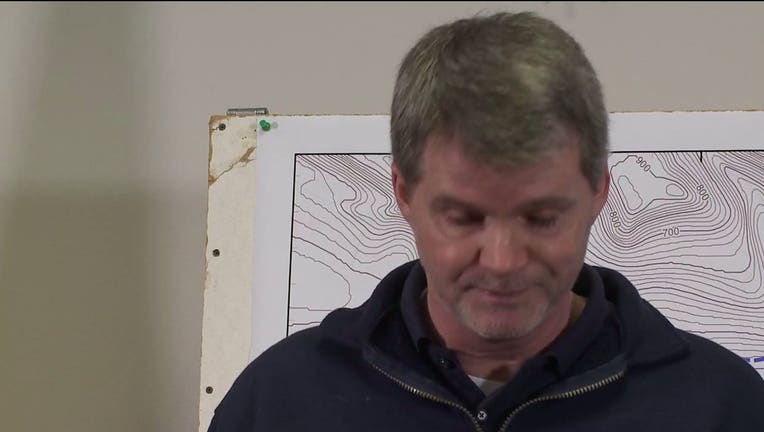 ARLINGTON, Wash. -- Search and rescue officials at the massive mudslide site announced they had not found any more victims in the debris field Wednesday, but they reduced the number of missing to 90.

The official death toll in Saturday's massive slide near the tiny town of Oso is still listed at 16, but eight additional bodies have been found but not recovered and counted yet.

Capt. Steve Westlake of Eastside Fire & Rescue told reporters at a news briefing that the eight additional bodies were expected to be flown out of the field in a group to the medical examiner Wednesday night.  A new death toll is expected to be announced at 9 a.m. Thursday.

The earlier number of missing had been 176.  Snohomish County Emergency Management Director John Pennington said Wednesday that had been reduced to 90.  He added that the missing number could still go up or down, depending on search results.

As the search for survivors and bodies in the Highway 530 Mudslide entered its fifth day, an emotional and physical fatigue is rising to the forefront not only of the victims' families and community members struck in catastrophe, but also of the officials embroiled in the details.

Snohomish County Fire District 21 Chief Travis Hots didn't appear at Wednesday's media briefings on the slide, and was taking a much needed rest, Snohomish County Executive John Lovick said. Steve Thompson, Snohomish County's public works director, appeared noticeably worn.

Normally stoic, calculated and composed department of emergency management director John Pennington briefly broke down while speaking about the outpouring of support he has seen from the county and state.

"We are humbled beyond belief in this county," Pennington said through tears. "It's very hard."

Outpouring of support from the community 

Washington State National Guard members were entering the slide from the west side of Highway 530 near Arlington, and would execute a "fully integrated" grid search to make sure all areas of the slide were covered, Incident Operations Section Chief Steve Westlee said.

The Washington Task Force of volunteers and rescue workers entered from the east side of the slide, planning to perform a similar grid search. East side search and rescuers had to deal with the rising Stillaguamish River pooling up and complicating search areas. More than 120 cubic feet of water had pooled on the east side of the slide, officials said, continuing to hamper efforts.



"We have a pond issue on the east side," Westlee said.

Pennington and other Snohomish County officials focused their efforts on integrating federal, state and local resources Wednesday, coordinating search teams and helicopters so that each department worked in tandem. Assets for the embattled town of Darrington continued to open up, as the Mountain Loop Highway was expected to clear around 1 p.m. providing secondary -- if treacherous -- access to the town.  The road was a single lane and not paved at some points.

"It's a very long way around," public works director Thompson said of the loop. "I caution anyone that is going to use that road."

Snohomish County Transit also would begin operating daily transportation from Darrington to Arlington and Everett for individuals to have access to groceries, medicine and other essentials.

Along with transportation and logistical options, mental health services opened up for victims, families and anyone else impacted by the slide, officials said Wednesday. A crisis care hotline was set up at 800-584-3578. A family assistance center opened for family members who had lost a loved one. And donations centers in Arlington continued to take in food, clothes and most importantly cash donations.

"The community felt safe" 

Questions again arose Wednesday as to whether the county adequately warned Oso residents of a potential of a slide. Pennington remained firm in his assertion they had. Following a smaller slide in 2006, emergency management officials performed a lot of mitigation efforts to minimize slide damage, he said. A million dollars was pumped into controlling channels of the Stillaguamish River and reducing slides.

Enough so that residents felt confident, Pennington said.

"From 2006 to 2014 the community felt safe."

No matter the mitigation efforts, it would have been hard to prevent such a catastrophic slide, Pennington said.

"Sometimes big events just happen. Sometimes large events that nobody sees happen. And this just happened."

However, other media outlets are question whether the event "just happened." A Seattle Times report claims as recently as 2010, officials warned of a large scale slide in that area. Logging was allowed by the state in that area multiple times throughout the years, perhaps increasing the risk of the slide.

Still, Pennington said the county could have not been more prepared.

"We did everything we could," Pennington said.

Meanwhile five patients caught in the mudslide are still at Harborview Medical Center. A 22-wee-old baby was still in critical but improving condition at intensive care. Three other men and one female are in satisfactory condition.