Moscow, Idaho, church deacon wins motion over COVID-protest arrest at outdoor hymn sing: 'I feel vindicated'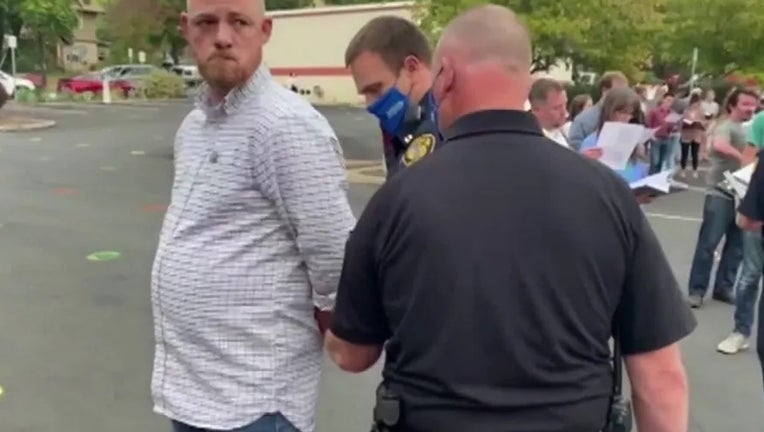 article
MOSCOW, Idaho - A church deacon in Idaho secured a legal win against his city after being arrested for alleged COVID-19 violations during an outdoor psalm sing in 2020.
"I feel vindicated by the judge, and disappointed that the city made me have to clear my name for three years," Gabriel Rench, 43, told Fox News Digital.
Rench brought a case against the leaders of Moscow, Idaho, that alleged his rights under the First and Fourth Amendments were violated when he was among three people arrested for not wearing a mask during a peaceful protest on Sept. 23, 2020, against the former mayor's repeatedly extended public health order.
Organized by Christ Church, a local evangelical congregation where Rench was serving as a deacon at the time, the protest consisted of about 20 minutes of psalm singing in front of Moscow City Hall, where city officials had placed small yellow dots six feet apart as social distancing guidance for the participants.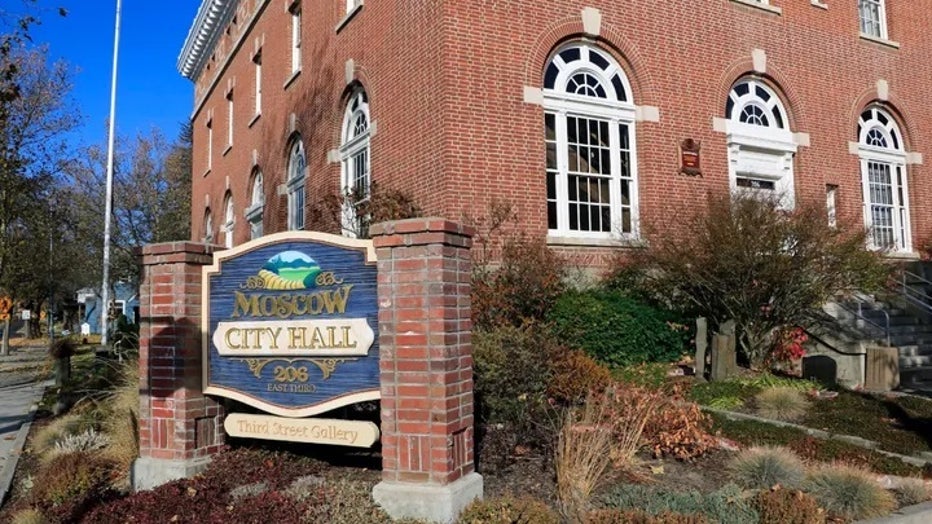 Gabriel Rench was among three protesters who were arrested outside Moscow City Hall during an outdoor psalm sing in September 2020.(Education Images via Getty Images)
Footage of Rench's arrest, which went viral and was condemned on Twitter at the time by former President Trump, showed officers taking his hymn book before leading him away in handcuffs to the county jail, where he was detained for several hours.
Rench was charged with violating the city's health ordinance, which carved out exemptions for activities protected under the U.S. Constitution and the Idaho State Constitution, including religious activity. A magistrate judge later dismissed the city's case against him, though Rench reportedly became a pariah in his predominantly liberal community following the arrest.
"Plaintiffs should never have been arrested in the first place, and the constitutionality of what the City thought [its] code said is irrelevant," U.S. District Court Judge Morrison C. England, Jr., wrote in his Feb. 1 memorandum and order denying the motion to dismiss. "The prosecutor's charging decisions were likewise flawed."
"Somehow, every single City official involved overlooked the exclusionary language [of constitutionally protected behavior] in the Ordinance," the judge further wrote.
READ ALSO: Idaho 'Cult Mom' Lori Vallow wants case dismissed over 'speedy trial' concerns after 1,169 days in jail
Writing that Rench's case is "one of the most novel set of circumstances the Court has ever encountered," England also ordered a settlement conference and offered to preside over it.
"Given that Plaintiffs were wrongfully arrested, the City indisputably erred in interpreting its own Code, the City consequently misadvised its officers as to the Code's application, and Plaintiffs are so far reasonable in their damage requests, this case should not need to see the inside of a courtroom," he wrote.
"The city knew from the jump that they were in the wrong, and the judge clearly stated that this was incompetence on their part," said Rench. "They even knew that their own resolution protected my First Amendment rights."
Despite his victory, Rench worries his case is an indication of growing hostility toward Christians. The former county commissioner candidate said he believes he "was a political target and a religious target."
"It's pretty obvious that there are some real principalities and powers at work," he said, referencing the sixth chapter of Ephesians. He believes "militant liberalism" is trying to seize political control around the world, and predicts Christians will increasingly be targeted in the name of suppressing so-called "Christian nationalism."
READ ALSO: Inside Idaho murders suspect Bryan Kohberger's unusually long route home to Pennsylvania
"It looks like it's just a fight between liberalism and conservatism, but I think it's a lot deeper than that," he added.
Moscow's city attorney did not respond to Fox News Digital's request for comment.