More than 850 homes evacuated as huge fire engulfs forest near Leavenworth; U.S. 2 closed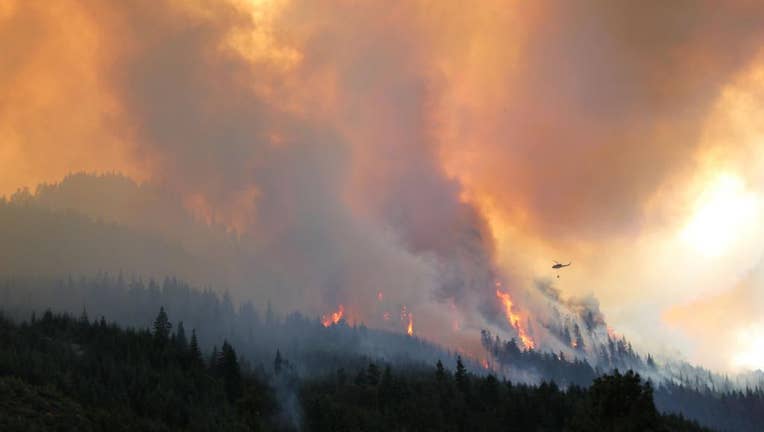 article


LEAVENWORTH, Wash. -- The Chiwaukum Creek Fire about 10 miles north of Leavenworth forced the closure of U.S. 2 between Leavenworth and Coles Corner Wednesday afternoon -- and mandatory evacuation orders were issued for the Tumwater Campground and about 860 homes, authorities said.  The plume of smoke rose more than 22,000 feet in the area and could be seen from Tacoma and Seattle.

State fire mobilization was ordered late Wednesday afternoon to try to contain the blaze that the Washington State Patrol said was threatening homes, power infrastructure and tourism.

"The fire experienced significant growth today, pushed by winds to the southeast ... late this afternoon," Chelan County Emergency Management said.

It added that smoky conditions prevented officials from putting a size on the fire, but one official said it was believed to be at least 1,200 acres by Wednesday night.

"Air support, including a VLAT, or Very Large Air Tanker, is attempting to keep the fire in check," Chelan County EM said. "Firefighters assigned to the fire, including type 1 hot shot crews, engines and dozers, shifted their focus to point protection when fire growth increased. Given smoke conditions, there is not an accurate acreage to report on the Chiwaukum Creek fire. Closures and evacuation levels continue to change as the fire grows."

Authorities closed U.S. 2 between Leavenworth and Coles Corner Wednesday afternoon, and the Washington State Patrol said eastbound U.S. 2 traffic was being turned around at Stevens Pass over the Cascades.

The Red Cross set up a shelter in Leavenworth at the First Baptist Church, 429 Evans St. And the Red Cross shelter in Wenatchee is on standby; it is located at the Seventh Day Adventist Church at Fifth and Western.



[trib_ndn vid=26418724]

The U.S. Forest Service first reported the fire Tuesday and estimated it had burned 200 to 500 acres of heavy brush and timber as of Tuesday night.

"Exact acreage is hard to determine because of the very smoky conditions," the Forest Service said. "The fire is located approximately three miles south of the Coles Corner area near Lake Wenatchee, and approximately 10 miles north of Leavenworth.

Crews were responding with aerial support to try to put out what is being called the Chiwaukum Creek Fire, the U.S. Forest Service said.

"The fire is burning up a ridge in extremely steep and gnarly terrain," the Forest Service said. "Firefighters are battling high temperature, steep slopes and heavy fuels.  Smoke is visible from both the Leavenworth and Lake Wenatchee areas. Current fire resources include: two helicopters, 3 hotshot crews, and 2-20 person fire crews."

Ash from the fire is reportedly falling in Leavenworth, Wenatchee and Cashmere.

The Chelan County Emergency Management said Coulter Creek Road was being closed to traffic and Level 3 mandatory evacuation notices were being issued along that road and the Chiwaukum Creek Drainage area.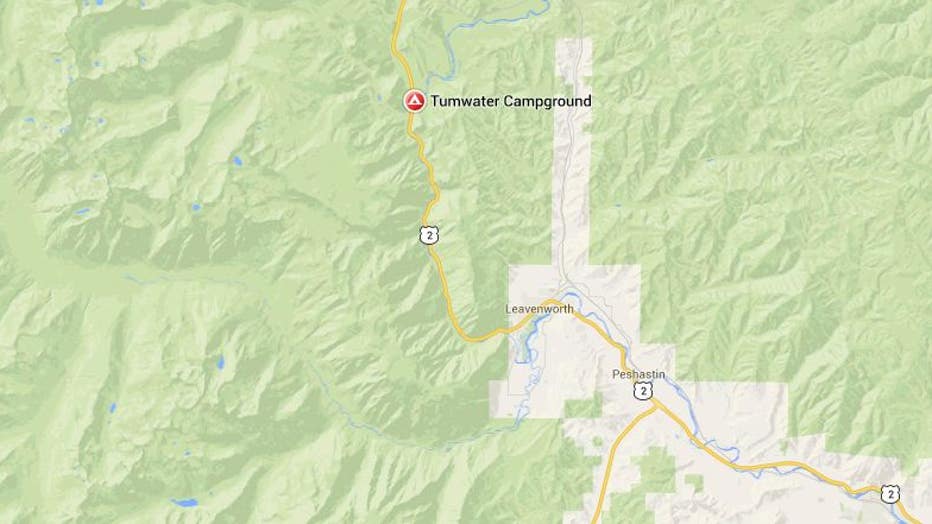 Meanwhile, state fire assistance was mobilized Tuesday night for the Stokes Road Fire, in Okanogan County, near Twisp, Wash. About 25 residences and an unknown number of outbuildings have been threatened by the fire, which has burned an estimated 2,400 acres so far, the state Department of Natural Resources said. Level 3 mandatory evacuation orders are in place for some areas near the fire.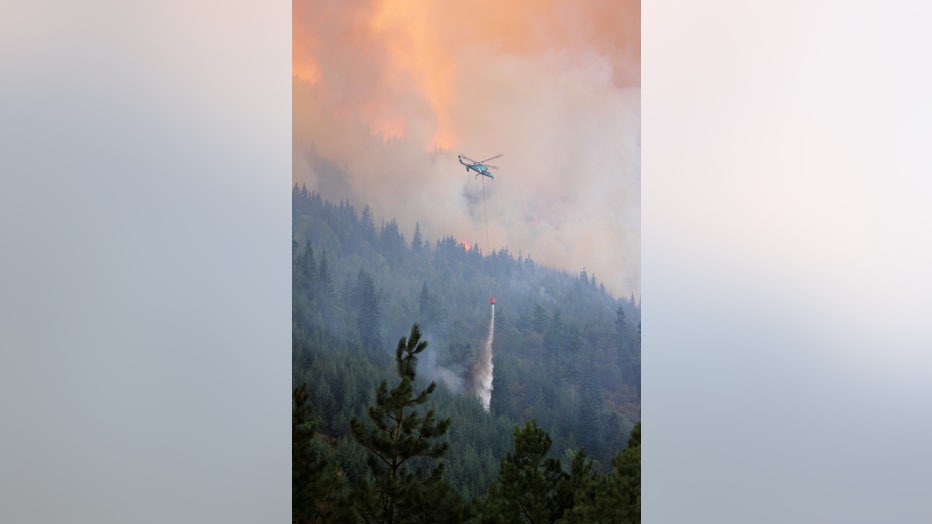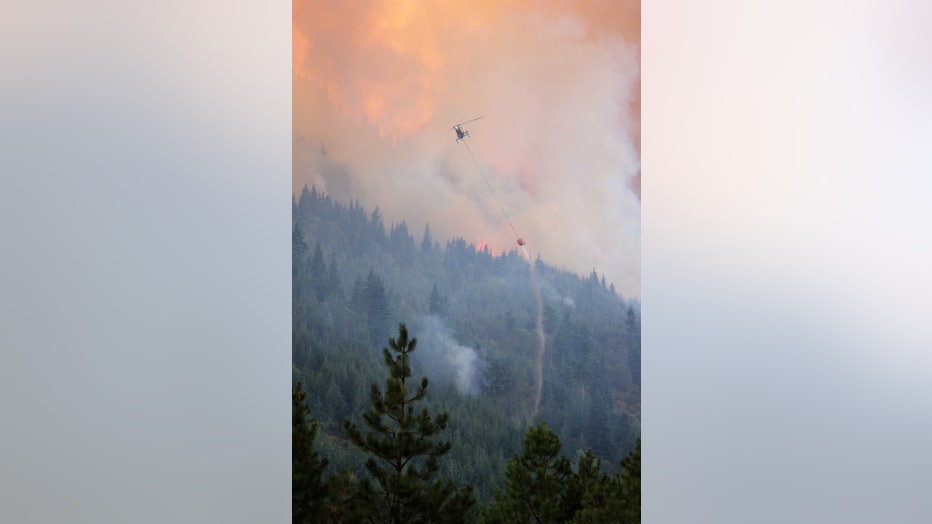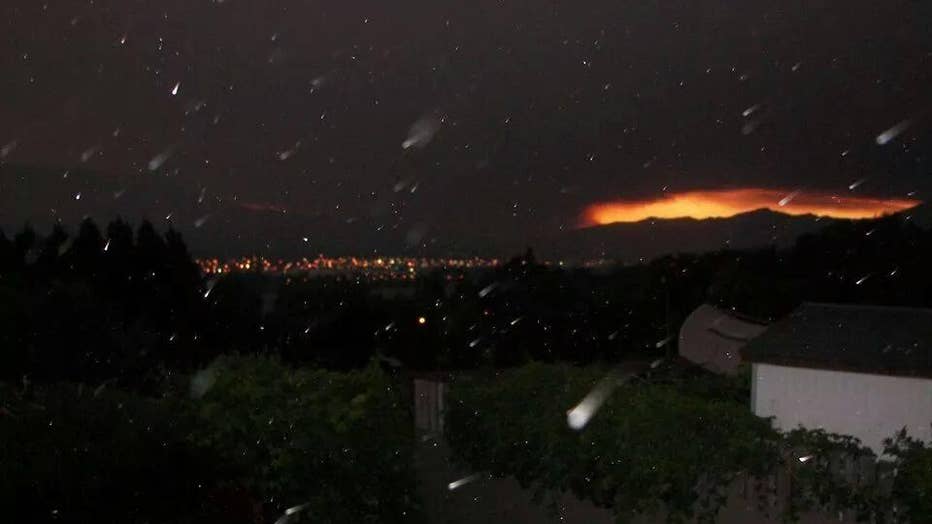 A viewer shared this photo of ash falling in the Wenatchee Valley at sunset Wednesday.