More evacuations as huge wildfire spreads in central Washington


ELLENSBURG, Wash. -- With a mandatory level-three evacuation order in place for her neighborhood, Linda Anderson is grabbing the things dearest to her and getting out of harm's way.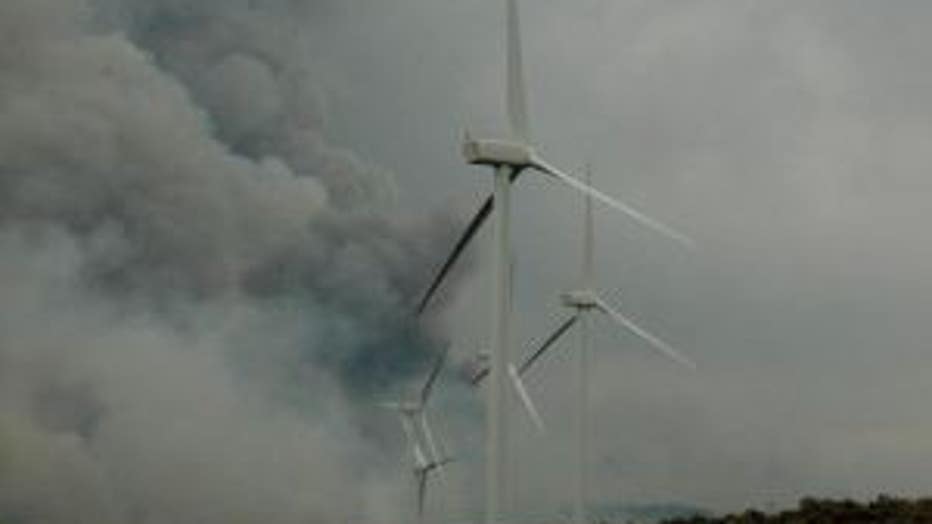 Smoke from the wildfire blackens the sky near the windmill farm near Wenatchee, Wash. (Photo: Kittitas County Emergency Operations)


She has experience with wildfires and evacuations she would rather not have.

"I'm scared. This is not the first fire we've been through, we went through three evacuations last year with the fires," Anderson said.

It is now day five of the Colockum Tarps Wildfire, which had started in neighboring Chelan County.

As of Wednesday night, the fire had grown to more than 66,000 acres -- 103 square miles. It is the largest wildfire in Washington state since 2006.

It is still on the move to the south and west; it is growing and moving farther into Kittitas County, where a state of emergency has been declared.

More than 400 firefighters are now working to stop this fire, including Rebecca Gremel's husband.

"It's kind of nerve-wracking. Last year when he went up I didn't hear from him for 24 hours and it got pretty nasty," Gremel said.

For longtime residents, and everyone else for that matter, this fire is nerve-wracking and brings back bad memories of last year's Taylor Bridge Wildfire.

"It does make me nervous. I don't get too close to it like last year. Last year I got way too close and it moved real fast, in minutes it was on the ridge and then down to the road," homeowner Cathy Hite said.

The evacuation orders in Kittitas County include 100 buildings, including 25 permanent homes and recreational properties, all, in the fire's path. The sheriff's office said 71 people were evacuated Wednesday, but others chose to stay behind.

Firefighters are working to cut firebreaks to stop the fire and protect homes and other infrastructure, like wind farms, transmission towers and gas lines.

"We're putting all of our resources in to the south and west portions of the fire to prevent the spread in those directions as best we can," fire Incident Commander Brian Gales said.

A public meeting is planned at 6 p.m. Thursday at the Central Washington University SURC ballroom in Ellensburg.

Representatives from the Kittitas County Emergency Operations Center and the Washington Incident Management Team 4 will give a fire update and answer questions.

Plans are in motion to set up a secondary fire camp in Kittitas County.