More dry days ahead, but you might as well get used to the cold
You might as well get used to the cold -- winter hasn't even started yet.

Temperatures Friday will ranging from the mid 20s to mid 30s as we start the day which is cooler than our normal overnight low of 36 degrees.

We'll see the dense fog in some areas start to burn off as the day goes on. Poor visibility for a lot of folks out there, especially in the South Sound near the Tacoma Narrows Bridge.

We'll push near 50 degrees inland and temperatures climb to nearly 60 for spots further south towards Long Beach.




Mountain passes

Traveling across the mountain passes will be pretty once you get up to the top! After fog lifts at the surface you'll see nothing but blue skies and temps near the summit about 40 today. But once you continue east towards Wenatchee, Cle Elum and Ellensburg you'll run into more fog and chilly temps because of our persistent late fall inversion.

This weekend

Not much change to the forecast this weekend. More late night/morning fog.  Highs upper 40s with lows sitting in the mid 30s.

In the coming days, look for spots of freezing fog which leads to black ice. Be safe and drive carefully!

Sounders FC in Toronto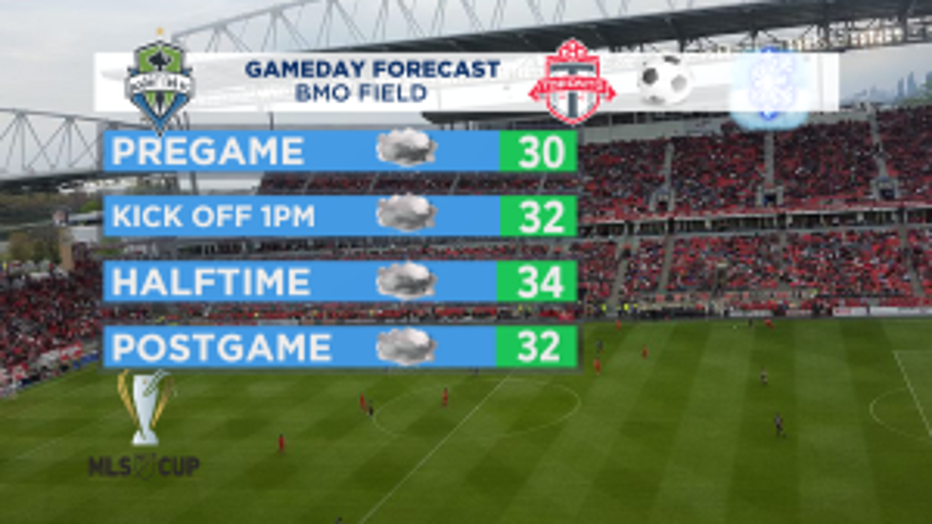 Saturday: MLS Cup Championship: Sounders FC at Toronto FC. Kick off goes at 1pm.  Brr! Temps near freezing with a few snow flurries possible during the match.

Sunday: The Seahawks on the road this weekend at Jacksonville.  Kick off vs the Jaguars set for 1:25pm.  Mostly sunny in the mid 50s when the ball flies.

Next week

The weather looks like a repeat of the weekend, but some models are suggesting we may get clipped by a system on Tuesday that could bring a few sprinkles to the coast. It likely won't be strong enough to hold and push inland. Any moisture will be confined to the coast. Highs in the upper 40s to low 50s all week.  Overnight lows fall into the 30s to near 40.

Holiday festivals

Enjoy the weekend and week ahead. It's a perfect time to get out and enjoy the holidays around the Northwest. Lots of fun activities for the kids and adults too!

WinterFest at Seattle Center is always exciting with ice skating now open!

Folks can check out the Zoo lights nightly at the Woodland Park Zoo and don't forget about the Warm Beach lights festival in Stanwood.