Monster blizzard slams Northeast, up to 500,000 without power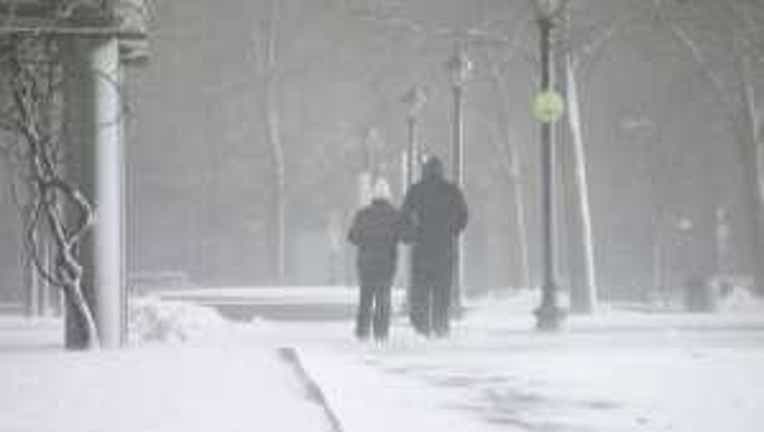 BOSTON (CNN) -- A monster blizzard left up to 500,000 in the Northeast in the dark and in the cold Friday night, due to a storm that's already delivered whipping winds and more than a foot of snow in some parts, with prospects of even double that by the time it's done.



[trib_ndn vid=24349029 site_section=dash]



The storm -- actually the convergence of two powerful systems -- began in earnest Friday morning in parts of New York and is expected to continue well into Saturday in Rhode Island, eastern Massachusetts and Maine.

Snow was more or less continuous for much of the region all day Friday, with some lulls as well as times when it picked up considerably. At one point Friday night, for instance, Connecticut's emergency management agency warned on Twitter that "a wide ban of extremely heavy snow" was moving through the central and eastern parts of the Nutmeg State, dropping snow at a staggering rate of 4 to 5 inches an hour.

Smithfield, R.I., had 14 inches of snow by 9 p.m. Friday, one of several towns in that state, Connecticut and Massachusetts to be buried under more than a foot of snow -- with much more, potentially, on the way.

"I couldn't believe the amount of snow that had piled up, as well as the many fallen branches," said CNN iReporter Molly Schulson in Providence, R.I.

She was among the tens of millions of people stranded in the blizzard's path.

Many were prohibited by authorities from driving as a preemptive measure while other roads were closed in the thick of the bad weather, as was the case late Friday for New York's Long Island Expressway and Sunrise Highway, according to the Suffolk County Police Department.

Others saw their travel plans squashed when more than 5,000 flights from some 60 airports were canceled. And Amtrak nixed several of its scheduled runs, citing the weather, while commuter rail service in and out of New York and other locales were also impacted.

Communities around New England looked like ghost towns Friday night -- as streets that typically would be choked with traffic were quiet and empty, except for whistling winds and a blanket of thick, sticky snow.

"Boston is kind of eerie at the moment," said Chris Moran, a veteran snowplow driver doing his best to keep the roads clear. "People are off the streets, and it looks like it could be 3 o'clock in the morning."

Strong winds made this storm especially biting. By 7 p.m., the National Weather Service reported wind gusts at around 60 mph from Nantucket to Boston's Castle Island -- not to mention a 71-mph gust in Buzzards Bay on Cape Cod.

For some, it all evoked memories of the "Blizzard of '78" and the "Presidents Day Storm of 2003" -- two of dozens of winter storms in Massachusetts that Moran has been out on the streets.

The Framingham resident bundled up to brave the bitter cold and clear snow off the roads. But with a storm this powerful, it sometimes seems like a losing battle.

"I just finished plowing a 40-car parking lot," said Moran. "But if you were to look at it now, you never would have guessed. It's completely covered."

The storm was expected to be one of New England's worst ever. The record Boston snowfall was set in 2003 when 27.6 inches fell. The last major snowfall in southern New England was during Halloween of 2011. Boston could get up to 3 feet of snow from the current storm.

Officials began marshaling resources earlier in the week. New York state activated its emergency center and in New York City, Mayor Michael Bloomberg said plows and 250,000 tons of salt were being put on standby. New York City could receive 6 to 12 inches of snow, a major hit. By comparison, Philadelphia, south and west, was expecting just two to five inches.

To read the entire CNN article, click here.