Mom of autistic student pulls him out of school after bus incident 'freaked me out'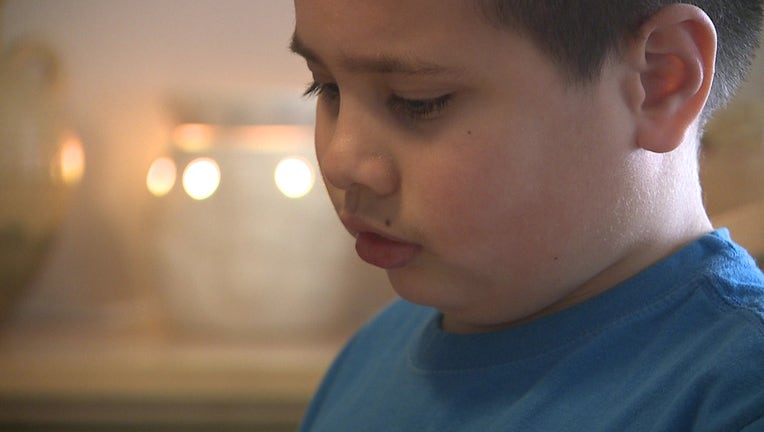 article


MARYSVILLE -- Trish Fuerte's son Aiden was diagnosed with autism when he was 3 years-old.  He's now in the fourth grade at Kellogg Marsh Elementary in Marysville, but has been out of school since mid-December.

"I have not heard him that upset, that fearful ever," said Fuerte in describing the phone call she got on Dec. 18.

The secretary told Fuerte she needed to come pick her son after they say he was kicked off the school bus.

"When we got home, I noticed his underwear sticking out of his sweatpants.  When I noticed it sticking out, I pulled it up and the way it was ripped freaked me out.  The back is completely torn and ripped all the way down," said Fuerte.

Aiden's mom called the school, but said she got no explanation.  Finally the bus driver called her back.

"She said, 'I felt bad for him and was appalled at the way they were dealing with him,'" said Fuerte.

The driver told Aiden's mom she saw two staff members roughly shoving Aiden into his seat and struggling to buckle his seat belt.  Since her son can't tell her what happened, she asked him to draw a picture.



"He drew a little boy with a backpack and sad face and then a large person with very angry mouth and angry eyes," said Fuerte.

When she asked him who that was, Aiden says it was his teacher.

"He said she was very angry at him and was pulling on him and hurting him," said Fuerte.

Arzu Forough with the Washington Autism Alliance said that she hears stories like that far too often.

"Anytime we hear about teachers losing their temper, or using inappropriate level of force with a student, we see it stems from not having appropriate training on alternative interventions," said Forough.

Just recently, Forough got a call from the parents of an autistic kindergartner on the Eastside who kept coming home with bruises.

"The parents were very concerned.  He was getting hurt at school a lot.  He eventually had a broken arm and there was no explanation about how it had happened," said Forough.

Trish Fuerte has pulled her son out of school and hired an attorney after what happened to him.

"They're not training their people right because my 9-year-old kid with autism, if he's having a hard day, they need to know how to de-escalate that, how to figure that out.  It's not his fault," said Fuerte.

Asked for a reaction to this report, the Marysville School District said Thursday they have put Aiden's teacher and para-educator on administrative leave while they investigate.  At the same time, the co-directors of district's Special Education Services resigned and have been replaced.  The district spokesman said the district hopes this new change in leadership will be a positive step forward.