Mike Compton murder: Killed in own front yard -- with own gun; help solve case that shocked small town
ORTING -- It was three years ago today that an Orting man was shot and killed in his front yard -- with his own gun.

Orting's police chief sat down with me for a rare interview, along with several other agencies working the case, to ask for your help solving Mike Compton's murder.

It was 2 a.m. in the morning on February 19th, 2014 when detectives say he interrupted a burglary in his garage and was killed with his own shotgun. "It was very stormy, not your normal Seattle area storm," explains Fife Police Det. Sgt. Tom Thompson. "It was pouring down rain and so the crime scene, everything was saturated in water, the wind was blowing sideways. I was the second one on scene. Immediately I noticed that Mr. Compton was in his front yard, a little bit away from the front door, and he was in his pajamas."

In the days leading up to his murder, police say neighbors had chased off several prowlers, but nothing violent like this.

"Being a small town and with limited resources, we only had one officer on duty at the time," says Orting Police Chief Bill Drake. "I immediately reached out to the Cooperative Cities Crime Response Unit," and that brought Det. Sgt. Thompson and Bonney Lake Police Det. Brian Byerley to the crime scene, where they joined Orting's only detective, Mike Cassatt, to investigate Compton's murder.




Byerley said, "We know there's multiple people involved whether there's three, four, two, five, we don't know that." Thompson adds, "One of  the reasons that we believe that is that Mr. Compton was a large man and from the folks that we've interviewed and talked too, he's a burley guy, he's a 'man's man' and we believe it would have been very difficult for an individual to overtake him while he's holding his own shotgun."

But as weeks turned to months with no arrests in the case the small close-knit town of just over 7,000 people grew restless with police and started speaking out in blogs and city council meetings. Chris Hopfauf is one of Mike's friend and says, "The people that have been here awhile are very much vested in finding Mike's murderers and not letting this slide by, I mean, it's the second unsolved murder in six years." Chief Drake responds, "When you lose a valued member of the community there is the need for resolution of the issue and I certainly understand that. On the other side of that coin, we want to make sure. We got a tremendous amount of information given to us and continue to get information. Some was accurate, some was not accurate."

So last September, Drake also requested help from the FBI. "There are credible leads that we're pursuing," explains Special Agent Terry Postma. He says there are multiple items of evidence being processed at the Washington State Crime Lab, but adds he would like to see more in the near future. "We believe that there are members of the public that have information and know information about the persons involved and we really need them to step forward and tell us what they know or what they have heard."

While multiple agencies continue to work the case, Compton's loved ones are left waiting for answers. "For all of us it's been tough," says Casey Smith, Mike's brother-in-law. Casey remembers Mike as the man who would drive over most Friday nights with his wife, Nikki, and hang out with Casey's family. "Mike was a great guy," Smith recalls. "He loved hunting and fishing and riding Quads and loved the outdoors. Very family oriented."

Mike's widow and other brother built a memorial to the man Nikki was married to for almost 30 years. "She said she'd come out the door and automatically look at where she found him and she didn't like seeing it," Smith adds.

But as family and friends try to cope, police hold high hopes that this case will be solved. It's just a question of when. "I think it's absolutely solvable," Det. Byerley says. Det. Sgt. Thompson agrees, "I'd like to believe. We're hopeful. Yes, we're hopeful."

The FBI has released the photo below for the first time showing an E-Cigarette wrapper found at the crime scene. The brand is 'Tsunami Premium Vapor." The type is 'Hawaiian Tropical E-Hookah E-Cig."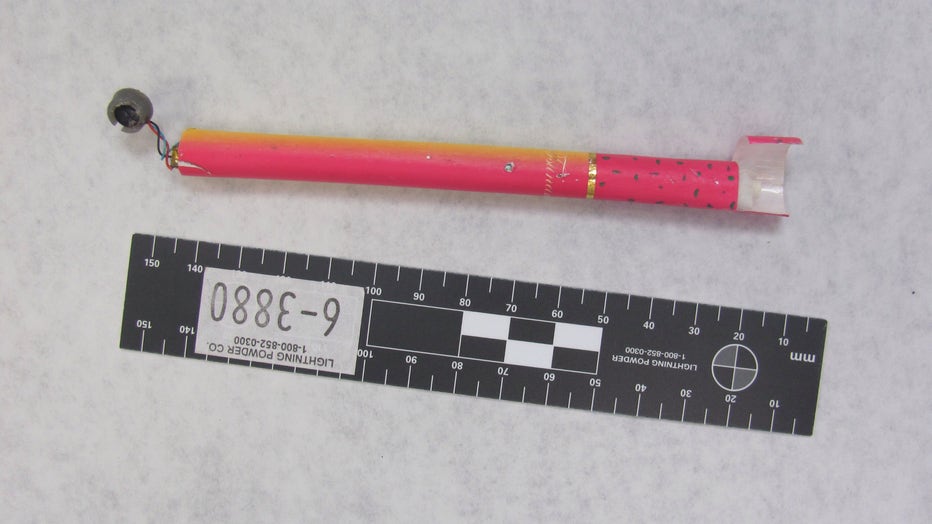 If you know anything about the E-Cigarette found at the scene, or anything else that could help solve the murder of Mike Compton, call an anonymous tip into: CRIME STOPPERS: 1-800-222-TIPS

You must call the Crime Stoppers hotline with your tip to be eligible to receive a cash reward for information leading to a fugitive's arrest.