Metro riders tell King County Council: Don't cut bus routes!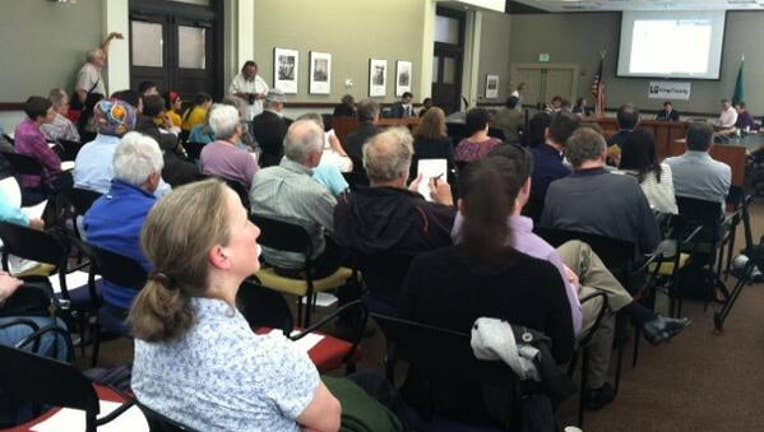 SEATTLE -- King County Metro is set to cut bus service by 16 percent, starting in September. Tuesday night, bus riders weighed in on that proposal.

Alex Boguniewicz takes Route 72 almost every day.

"Since I don't have a car, it's pretty much my only means of transportation to get to school from where I live in Sand Point," he said.

But that route is one of the 72 slated to be cut, due to a budget shortfall.



King County voters had a chance on the April ballot to save the bus system, but they voted no on Proposition 1.

"I was surprised," Boguniewicz. "With most people I talked to, I thought it was going to go the other way. So I was disappointed and surprised."

So was Victoria Dickerson, who also takes the bus as part of her commute from Olympia.

"Since I live in Thurston County, I wasn't able to vote on what was going on, so that was unfortunate," she said.

But Tuesday night, riders did have a chance to tell King County Council members what they think about the proposed cuts. They overwhelmingly said Metro is moving in the wrong direction.

"A lot of people use the bus system to commute, so it could be detrimental to a lot of people," said Dickerson. "One of my co-workers, her bus system is completely cut out. So she was just talking to me about how she doesn't know how she'll get to work in the morning."

"It affects everyone, even if you don't rely on the bus," added Katie Wilson, with the Transit Riders Union. "If they cut this much service, congestion is going to get a whole lot worse because everyone who's got a car is going to be getting into that car."

Riders are glad that Seattle Mayor Ed Murray proposed a plan earlier Tuesday that could prevent future bus cuts, if voters approve it in November.

But Wilson said that would only be a temporary solution, and that it's the state lawmakers in Olympia who really need to listen to their concerns.

"I think it's important to show that people care about this. For us, the Transit Riders Union, we're organizing. We're getting people together and it's going to be a long-term fight," she said.

The King County Council will have a couple more public meetings before they vote on the proposed cuts next month. There will be a meeting in Bellevue on Thursday, and one in Renton next Tuesday.