Memorial walk held for victims of pedestrian crash; Mayor vows changes


SEATTLE -- Seattle residents held a memorial walk Monday for the two pedestrians killed and two  critically injured by a suspected drunken driver in north Seattle last week.

Dennis Schulte, 66, and his wife, Judith Schulte, 68, were killed in the accident on Northeast 75th Street March 25. Their daughter-in-law, Karina Schulte, and Karina's 10-day-old baby, Elias, were critically injured. The pickup truck driver has been charged with vehicular homicide and vehicular assault in the case.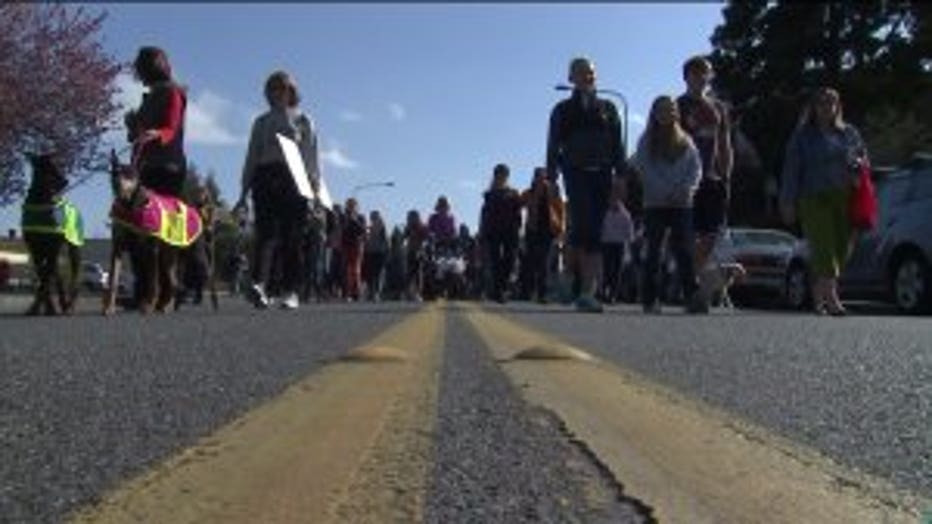 People in the area now want change, including more crosswalk signs and even speed cameras to slow down drivers in the area.

"One week ago today, a Seattle family and a Seattle community were shattered by tragedy after an allegedly impaired driver collided with them as they were out enjoying a walk in their own neighborhood," Mayor Mike McGinn said. "We mourn the dead and wish for the speedy recovery of the survivors.

"We have also heard from the community about concerns regarding road safety on Northeast 75th Street near Nathan Eckstein Middle School," McGinn added. "We are going to work with the community to look at physical changes to the design and layout of Northeast 75th Street to bring down speeds and make it safer for students and neighbors."

McGinn said the Seattle Department of Transportation, along with other plans, will be installing a flashing school zone beacon on Northeast 75th Street in front of the school and will begin the process of evaluating whether to install a school-zone speed camera.

"This collision has also raised good questions about our state's DUI laws and their enforcement. We are taking a close look at ways to improve enforcement of DUI laws here in Seattle. We will also evaluate existing impaired driving laws to determine what improvements to make or to advocate for at the state level."