Memorial for slain Powell boys finished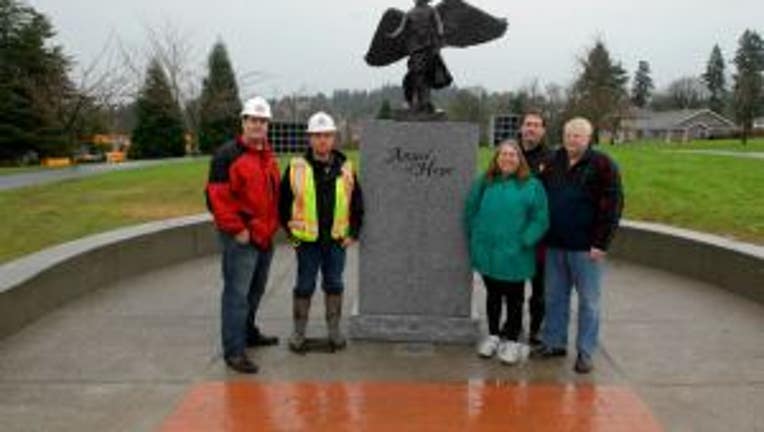 PUYALLUP, Wash. -- Crews at Woodbine Cemetery in Puyallup put the final touches on a memorial for Charlie and Braden Powell Monday.

Work on the 5,000-pound statue began in early November at the cemetery on 2323 9th Street SW in Puyallup. Volunteers helped design, construct and donate the materials for the statue, in hopes that it could be finished for a dedication on Thursday, Dec. 6.

Pierce County Sheriff's Department Spokesman Ed Troyer and Pierce County Sheriff's Department Sheriff Paul Pastor were the first to act in purchasing the grave sites adjacent to Charlie and Braden in order to prevent Josh Powell, their father, from being buried next to the victims.

Josh Powell, who was a suspect in the disappearance of his wife, Susan Cox Powell, in Utah in 2009, had lost custody of the children in 2011 and lost an appeal to get his children back just four days before he decided to kill them in fire at his home in Graham, Wash.

The monument at Woodbine Cemetery is a Christmas Box Angel made of bronze and sitting on a granite base next to the boys' graves. The Christmas Box was donated as a symbol to others who have lost a child, Troyer said. Those who have lost children or need to grieve for a loved one come together at Christmas boxes across the country on Dec. 6.

The boys' grandfather, Chuck Cox, said, "Realizing that many families that have to deal with the loss of a child, it's evident to us that an angel statue would be a fitting memorial and that it would benefit the entire community."

Charlie and Braden's names will be etched on bricks and there will be benches with lighting and built-in flower holders. Other children who die young can be laid to rest there, officials said.

"Those who have lost children or need to grieve for a loved one, come and place a white flower at the base of the statue in honor of those who have returned to heaven," Cox said.