Meet Taji! Seattle's Woodland Park Zoo gets its first rhino
SEATTLE -- The first of two rhinos has arrived safely at Woodland Park Zoo. After a two-day road trip from San Diego, Taj, a male greater one-horned rhino, arrived last Friday in healthy condition. Trained in preparation for the move, the 17-month-old animal traveled in a custom-made trailer driven by an expert who specializes in moving rhinos.

Taj will live in the new special exhibition, Assam Rhino Reserve. The exhibit opens May 5 and will mark the first time rhinoceros will live at the 92-acre conservation institution in the zoo's 118-year history.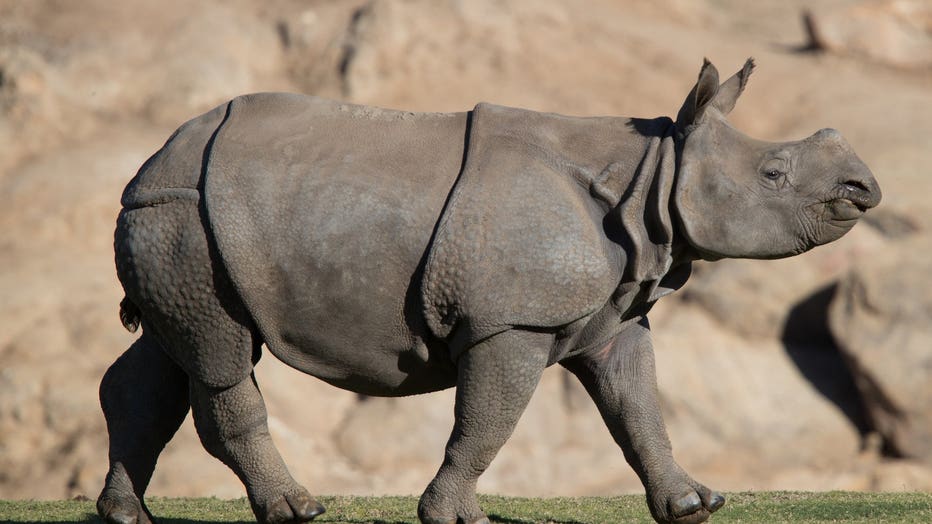 Taj, a 17-month-old, male greater one-horned rhino, will make his public debut May 5 in Woodland Park Zoo's new Assam Rhino Reserve. (Jeremy Dwyer-Lindgren/Woodland Park Zoo)


Pronounced like TajMahal, Taj means "crown" or "jewel" in Hindi. He was born Nov. 10, 2016 at San Diego Zoo Safari Park and is the 70th greater one-horned rhino born at the Safari Park since 1972, making the Park the foremost breeding facility in the world for this rhino species.

"Taj has spent his first few days inside the barn settling in and becoming familiar with his new surroundings and rhino care keepers. Starting this week, we will begin introducing him to the outdoor exhibit yards where he will also be in standard quarantine," said Martin Ramirez, mammal curator at Woodland Park Zoo. He will be off view to guests until the exhibit opens.

Assam Rhino Reserve will showcase greater one-horned rhinos, Asian brown tortoises and demoiselle cranes. Rhinos are iconic symbols of the wildlife trafficking crisis. The exhibit will highlight the amazing adaptations of these three species and bring to life the impact of poaching, the illegal wildlife trade and the turtle extinction crisis.

"In 2015, more than 70% of Washington voters passed the nation's first citizen initiative to ban statewide wildlife trafficking, making it clear that iconic global species will not go extinct on our watch," said Woodland Park Zoo President and CEO Alejandro Grajal, PhD. "Most Washingtonians think wildlife trafficking happens far away, on the other side of the planet. In Assam Rhino Reserve, we'll highlight the trafficking issues going on right here in our backyard—Puget Sound all the way up to the forests in the mountains. Black bear, elk, sturgeon and even the little-known sea cucumber are disappearing from overharvesting in our state."

Another male, Glenn, will soon join Taj. Glenn was born a day apart from Taj on Nov. 11, 2016 at The Wilds, a 10,000-acre conservation center and safari park located in Cumberland, Ohio and operated by the Columbus Zoo and Aquarium. He was named in honor of the late astronaut and Senator John Glenn, who was a dear friend of the Ohio conservation organization.

Currently weighing about 1,500 pounds apiece, the juvenile rhinos are still growing and will weigh between 4,000 and 5,000 pounds when fully grown.

Taj and Glenn will be 18 months old when they make their debut to the region's community. "This is a natural age when rhino calves are weaned and separate from their mothers," said Ramirez. "Through the Species Survival Plan for greater one-horned rhinos, we are playing a supporting role by providing a home for these young males who are not ready to start families yet." The Association of Zoos & Aquariums' Species Survival Plans are conservation breeding programs across accredited zoos to help ensure healthy, self-sustaining populations of threatened and endangered species.

Rhinos, especially this species, are largely solitary and males are fiercely territorial. "Because Taj and Glenn are young, our hope is they will be compatible sharing the same space. Taj recently buddied up with a calf at San Diego Zoo Safari Park, so we're confident pairing the rhinos at this age will be good for them," said Ramirez. "As we do with all of our animals, we'll follow their social and behavioral cues and allow them to make the choice." Alternatively, they will have access to the various yards and pool.

Zoo-goers will see many natural behaviors of this water-loving species including wallowing in mud, grazing on land, immersing in a shallow pool and nibbling on aquatic plants along the edge of the pool. "Seeing, smelling, and hearing rhinos, turtles, and cranes will offer an extraordinary and rare experience for our community," added Ramirez. For an additional fee, up-close encounters with the rhinos will be offered.

Assam Rhino Reserve was made possible by private donations of all sizes from generous individuals, families, corporations and foundations, as well as funding from the Seattle Park District. Additionally, operational funds for rhino care, conservation, and accessibility will be raised on an ongoing basis, including through a spring 2018 multi-channel campaign and at the zoo's annual Jungle Party fundraising event on July 13, 2018.

Five species of rhinos survive today: black, white, greater one-horned, Sumatran and Javan. In the last 200 years, the rhino population has plummeted from one million to fewer than 30,000 worldwide.

Also known as the Indian rhino, the greater one-horned is second in size only to African white rhinos. It has a single horn that is about 8 to 25 inches long; a gray-brown hide with skin folds gives it an armor-plated appearance. Once found across the entire northern part of the Indian subcontinent, the population rapidly declined to fewer than 200 in the 20th century due to sport hunting, human conflict, poaching for their horns for use in traditional medicine and habitat loss. According to the International Rhino Foundation, the population has recovered today to an estimated 3,600 thanks to conservation efforts and strict protection from Indian and Nepalese wildlife authorities and collaborative efforts of NGOs. The species lives in north-eastern India and southern Nepal and, while it is a successful conservation story, the pressures of poaching remain high.