McGinn announces he will seek 2nd term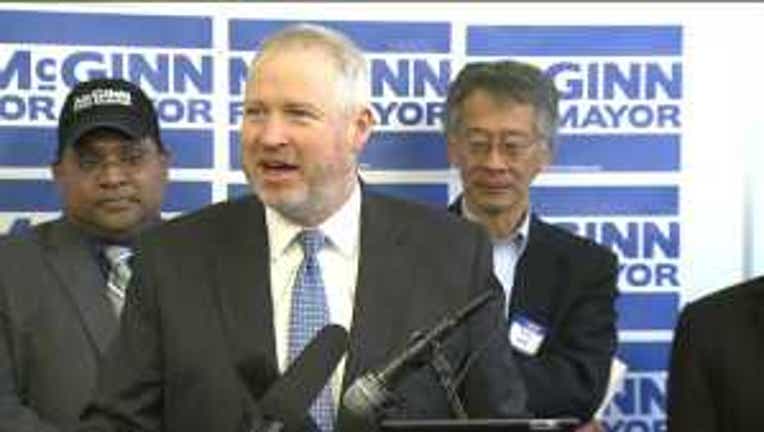 article
SEATTLE -- Mayor Mike McGinn announced Wednesday he is seeking re-election to a second term this year.

"I think we're heading in the right direction," McGinn said in a Q13 FOX News interview after his announcement. "Jobs are up. Overall crime statistics, we've reduced it. I want to keep working with the people of Seattle and this city."

At his news conference earlier in the day, McGinn also said that the city's budget has been "in the black" every year since 2009.

In a new term, McGinn said, he would focus on job growth, public education, youth violence prevention programs, public safety and the expansion of community colleges.



[trib_ndn vid=24199843 site_section=dash]

McGinn, 53, a Long Island, N.Y., native, a lawyer and former Sierra Club state chairman, won election to the Seattle mayor's office in November 2009 with the support of environmentalists, biking advocates and younger voters. He defeated fellow candidate Joe Mallahan in the general election in a close race, winning just 51 percent of the vote. The previous mayor, Greg Nickels, had been eliminated by finishing third (behind Mallahan and McGinn) in the earlier primary election.

McGinn, who became the 53rd mayor of Seattle, assumed office on Jan. 1, 2010. He had advocated replacement of the Alaskan Way Viaduct with a surface street instead of the planned tunnel, but McGinn lost that battle.

Other announced candidates for mayor in 2013 include state Sen. Ed Murray, D-Seattle, Seattle City Councilman Tim Burgess and former City Councilman Peter Steinbrueck.

McGinn is married and has three children.