McCain sneaks into Syria, meets with rebel leaders


SOUTHERN SYRIA (CNN) -- Sen. John McCain, R-Ariz., sneaked into Syria from Turkey and visited with Syrian rebels Monday, his communications director confirmed to CNN, making the Arizona Republican the highest ranking elected official from the United States to visit the war-torn country.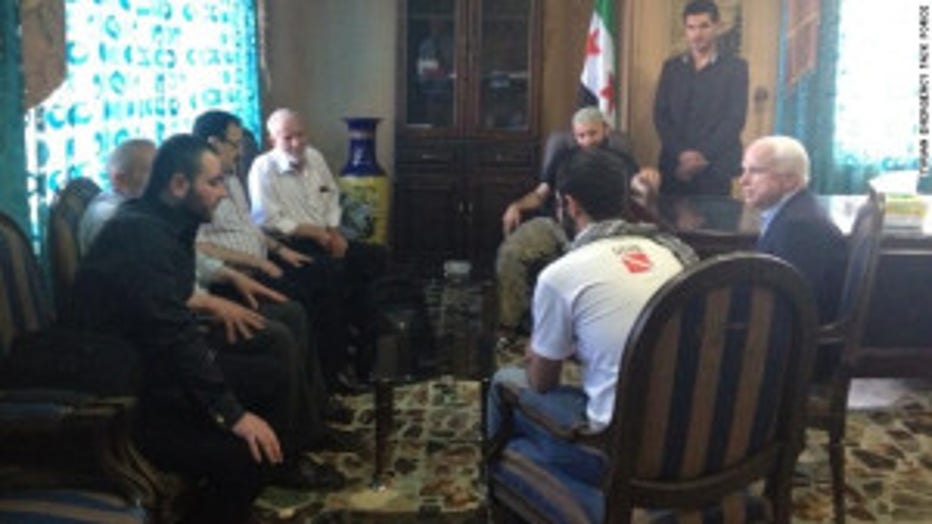 Brian Rogers confirmed a report that originally appeared on The Daily Beast, which indicated McCain entered Syria through Turkey, and remained in the country for several hours.

While in Syria, McCain met with Gen. Salem Idris, the leader of the Supreme Military Council of the Free Syrian Army, according to Mouaz Moustafa with the Washington-based Syrian Emergency Task Force that was involved in planning the trip. He spent about an hour meeting with Free Syrian Army commanders from various parts of the country.

McCain is a leading voice in Congress for a greater U.S. role in ending Syria's civil war, which has been waged for more than two years. He has suggested establishing "safe zones" for Syria's rebels and taking out the regime's air assets, along with providing lethal weapons to Syria's opposition.

In their meeting with McCain, leaders of the Syrian rebel forces pressed the United States to provide them with weapons to continue their fight against Syrian President Bashar al Assad. They also called for establishing no-fly zones and for airstrikes against Assad's regime, according to the Daily Beast's report.

His visit came shortly before Secretary of State John Kerry was scheduled to meet in Paris regarding Syria with Russian Foreign Minister Sergey Lavrov.

The U.N. estimates that more than 70,000 Syrians have been killed since anti-government protests in March 2011 led to a fierce government crackdown, an armed uprising and a bloody civil war. The war has uprooted a quarter of the country's 22 million civilians.

Republicans and Democrats alike have called on President Barack Obama to ramp up support for Syrian rebels, who now receive non-lethal aid such as food and medicine from the United States. In early April that aid was stepped up to include equipment such as body armor, night-vision goggles and other military equipment that is considered defensive in nature.