Mayor sends City Council his proposal to raise minimum wage to $15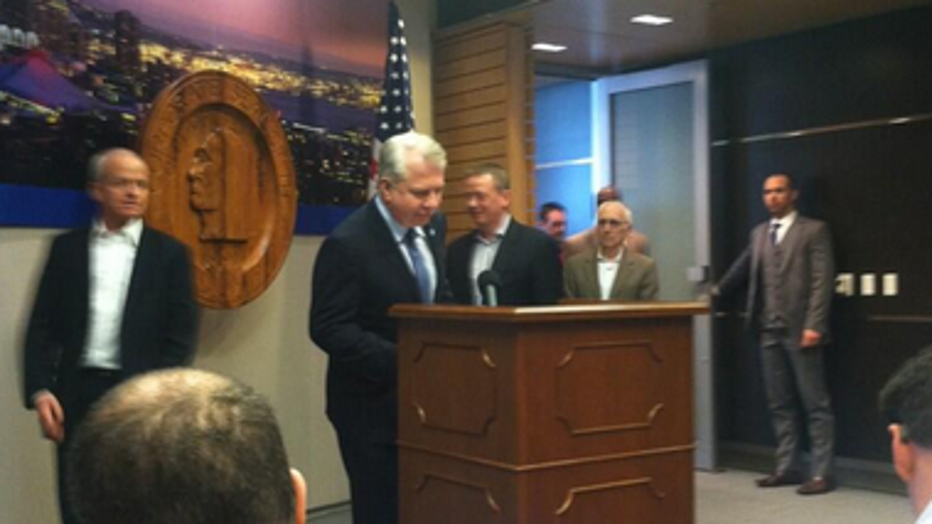 Mayor Ed Murray announces plans for a $15 an hour minimum wage.


SEATTLE -- Mayor Ed Murray on Thursday sent the City Council his proposed legislation to raise the minimum wage in the city to $15 an hour within a three- to seven-year period, with every member of the council co-sponsoring the proposal except Socialist Kshama Sawant.

Sawant has said the mayor's plan does not raise the minimum wage quickly enough.

"This legislation was an exercise in hard work, patience and diligence," Murray said. "I want to thank the 24 members of my Income Inequality Advisory Committee, especially the eight sub-committee members, who were able to represent the needs of the groups they represent while negotiating an agreement that benefits the city."

"I am also grateful for the partnership of my colleagues in the Seattle City Council, some of whom joined on the Income Inequality Advisory Committee and many who are co-sponsoring this legislation with me," Murray added. "While I know they will exercise their prerogative as legislator, I know that the main principles represented in this bill will remain through their discussions, joining me in showing true leadership for our city."

If approved, the wage would be the highest of any major city in the nation. More than 100,000 people working in Seattle currently make less than $15 an hour.

The mayor's agreement calls for a phased-in approach to increasing minimum wage.

Small businesses, defined as businesses with less than 500 employees, have seven years to reach the new minimum wage. For the first five years, those businesses will be allowed to factor tips, health care and other benefits into that wage, but not after that.

Businesses with more than 500 employees, such as McDonald's and other chains, will only have three years to implement the new wage, Murray said. There are more than 30,000 employees in the city that worker for a company with 500 or more people.

There are no exemptions for any business at the end of seven years to pay less than $15 an hour. Once $15 an hour is reached, future increases will be tied to the consumer price index.

Sawant, who spearheaded the '15 Now' campaign, is disappointed at what she calls a watered-down deal.

"This proposal does not live up to the wishes of Seattle's workers," Sawant said after the agreement of the mayor's task force was announced.

The City Council will begin debating the proposal next Thursday, May 22, Murray said.