May Day brings day of marches and protests in Seattle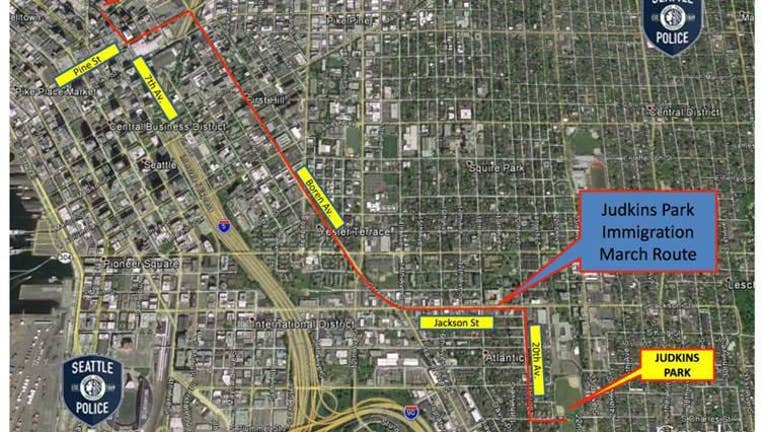 article
SEATTLE -- Thousands of people are expected to take to the streets of Seattle Friday during annual May Day marches and demonstrations.

A historic day of action, May 1 has a rocky history in Seattle. In recent years, the day has been marked by vandalism and violent confrontations between protesters and police.




Despite past problems, the largest event of the day – the annual May Day March for Workers and Immigrant Rights – is overwhelmingly peaceful.

The permitted march draws thousands of participants. This year, it will depart from Judkins Park at 3 p.m. and move along Boren Avenue to the Federal Courthouse on Seventh Avenue and Stewart Street.

"Especially here in Seattle, we're living in this city in a time where people are feeling very inspired to come together and make a difference in this city," Anna Hackman, a volunteer helping to organize the event, said Thursday.

Hackman said the rally and march take months of planning and help from countless volunteers. Organizers met with Seattle police this week to share their plans for the day.

"We know what time they're going to be there. We know what time they're leaving. We know where they're going. We know what they want to do when they get there," said Seattle Police Capt. Chris Fowler, who will lead the department's response to May Day demonstrations.




"And I think after all the years of them doing it, they've figured out the right ways to get their message across as well, so it's huge help."

Other marches planned for the day are without permits, and police must rely on past behavior to determine what the crowd might do.  Seattle police are warning drivers that May Day means they should be prepared for rolling slowdowns and heavy traffic from planned marches.

Of most concern, due to a history of vandalism and violence, is the annual anti-capitalist march, which will begin at 6 p.m. at Seattle Central Community College.




In 2014, the group marched around the city for hours before eventually lighting fires in an intersection on Capitol Hill.

Fowler said the crowd will be allowed to block traffic, so long as the march remains peaceful.

"I think the vast majority of people in Seattle understand that everybody has a right to express their opinions peacefully in a non-violent way," he said. "But at the end of the day, if they commit acts of violence, they expect us to have some response to that. We've trained for that and we're prepared to do that."