SEATTLE -- Police spent weeks planning for this year's May Day march, and it's that planning and preparation they say will help prevent violent, destructive protests.

"We have officers out that are going to support the immigration march. We are going to set the environment so that people can safely express their free speech rights and if any individuals decide to commit crimes, then we will investigate and if possible make arrests," Seattle Police Capt. Chris Fowler said.

It is expected that about 10,000 protesters will be present at the march.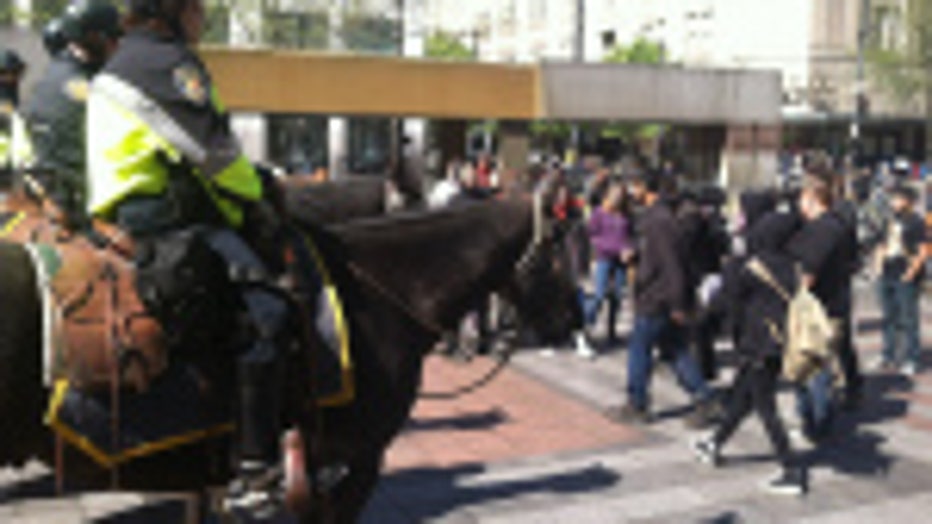 Fowler held a press conference in West Lake Park at noon Wednesday and said officers are well organized and ready for any challenge.

"In spite of everything that has been going on over the last year, the Seattle Police Department is very professional. The officers that are out here doing their job understand what the expectations are and they meet those every single day, so they are really doing what they do all the time," he said.

Seattle Police do not want a repeat of last year's chaos, where anarchists targeted businesses and cars with sticks and rocks. And more than the police are preparing for the worst -- two U.S. Bank downtown locations announced they are closing at 3 p.m. today.

Some who work near where the chaos broke out last year hope that police can keep the peace.

"I hope that works out for them, but I think we need to let them do their job and whatever it takes to stop the violence, I don't think they should be criticized for doing their jobs like they were last year," one woman said.

The focus on the May Day protest is on workers and immigration rights; the march is scheduled to begin at 3 p.m. at Saint Mary's Church on 20th Avenue and South Lane Street.  Protesters will head down to the Federal building on 2nd Avenue and then cross Jackson, King and Pike streets. The march will eventually head into the heart of the downtown.

A group called the Puget Sound Anarchists planned another march at 6 p.m. Wednesday on Capital Hill. Anarchists are planning to gather at Seattle Central Community College. There is no word on where that march will lead. Police said they are aware of this march and will monitor the area.