Maurice Bailey: WMW viewer tip leads to ex-con who quickly went on run after prison release
FUGITIVE CAPTURED Jan. 25, 2013 -- The Department of Corrections says Maurice Bailey was arrested on January 25th, after a Washington's Most Wanted viewer called the DOC, saying Bailey was at an apartment complex in downtown Seattle. Officers went to check it out, and noticed a vehicle driving erratically. The officers recognized the vehicle as they received an anonymous tip that Bailey was associated with the vehicle. The officers followed the vehicle, which pulled into a Safeway parking lot and parked in front of a restaurant.  Two people exited the vehicle and went inside the restaurant, but officers could see that there was someone sitting in the back seat.  The officers approached the vehicle and observed a guy, later ID'd as Bailey, with a hat pulled low over his face, large dark sunglasses -- which was odd to the officers because it was nighttime -- and a large scarf that was wrapped around his neck and pulled high along the sides of his face.  The man originally told the officers his name was Monty, then eventually gave his real name and told the officers he had a warrant. FUGITIVE WANTED BY DOC IN KING COUNTY Jan. 18, 2013 - Officers say high-violent ex-con, Maurice Bailey, has bailed from checking-in with his probation officer. He got out of prison late last year, checked in once -- but never since.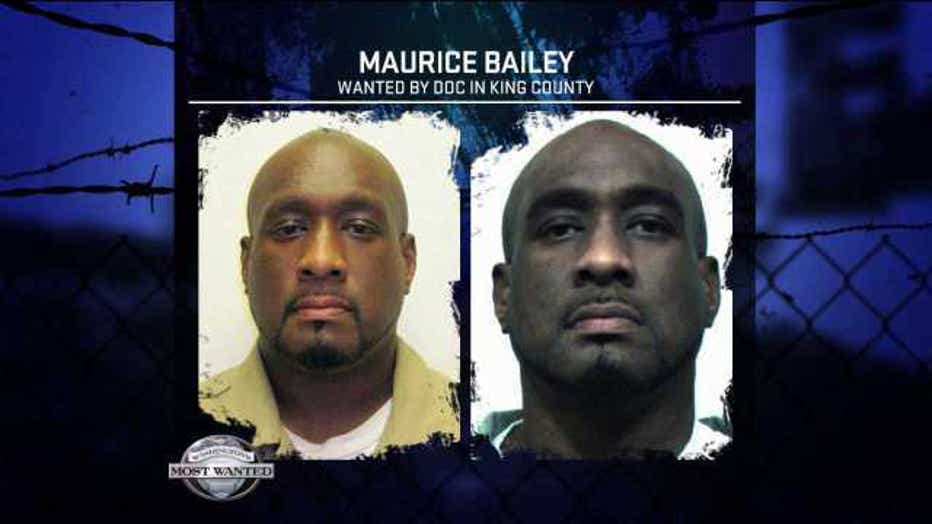 Bailey's been busted for not only getting into a vicious jailhouse fight, where he broke a guy's face with his foot, but he's also been convicted of hanging out at a middle school, drinking a 40 of 'Olde English', while being armed with a 9mm handgun in his pocket.
Here are the details on MAURICE BAILEY:
Officers definitely consider this guy 'armed and dangerous' so if you spot him or know where he's hiding out, quickly call an anonymous tip into: CRIME STOPPERS: 1-800-222-TIPS You must call the Crime Stoppers hotline with your tip to be eligible to receive a cash reward for information leading to a fugitive's arrest. CLICK HERE for information on how to TEXT A TIP to Crime Stoppers