Massive storm hits Western Washington; mudslides, flooding reported


[trib_ndn vid=25135438]

SEATTLE -- Unusually heavy thunderstorms, accompanied by nonstop lightning and strong winds, slammed Western Washington Thursday night and early Friday and promised to make the morning commute a mess.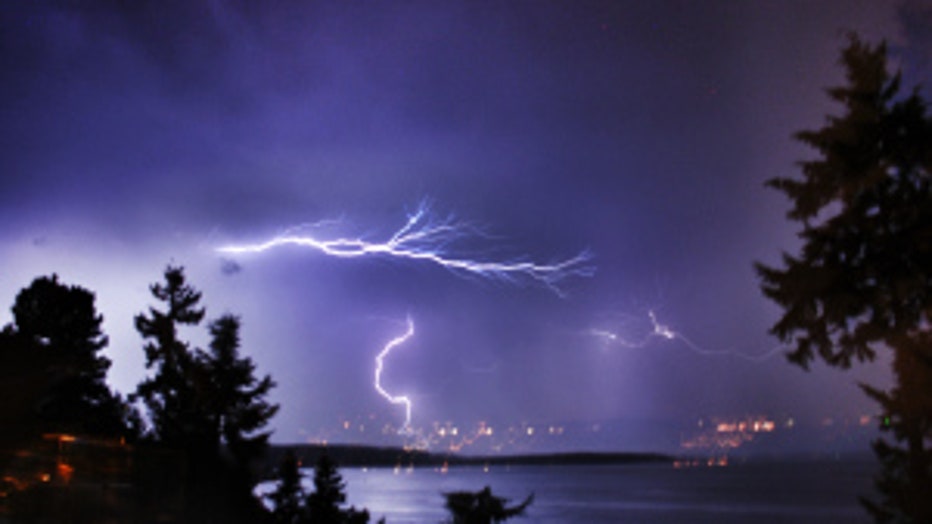 A lightning show off Camano Island, Wash. (Photo by Alix McClurken, Camano Island)


No confirmed injuries were immediately reported, except for a motorcyclist who had been hit by lightning earlier in the day while riding down Interstate 5 and who received only minor injuries.

The extent of the damage left by the storms would likely not be evident until the morning's light, but some was clear before night fell Thursday. Seattle did not start feeling the brunt of the storms until about midnight.

The Washington State Department of Transportation said several mudslides had closed State Route 410 about nine miles west of U.S. 12 near Naches, west of Yakima.

Streets were flooded in the city of Wenatchee, according to The Wenatchee World, which added there were reports of a tree falling on a house in the Orondo area and two people being injured. Houses were also flooded, the paper said.

In the city of Centralia, 1.80 inches of rain had fallen in a six-hour period, the National Weather Service said. For comparison, normal rain for Seattle for the entire month of September is 1.50 inches.

And lightning lit up the skies over the entire state of Washington. At one point, the National Weather Service in Seattle said there had been 529 lightning strikes in one hour over Western Washington, from Lewis County northward.

In the city of Shelton, about 50 miles west of Tacoma, lightning felled trees, one of which fell on the roof of the Fairmont Cove Apartment building. Another strike damaged the Mountain View Elementary School in Shelton. No injuries were reported in either case.

Lightning was also believed responsible for knocking out Peninsula Light Co. transmission stations, leaving 24,000 customers in Gig Harbor and on the Key Peninsula without power for about two hours.

Seattle did not start feeling the brunt of the storms until about midnight. But the storms were expected to last in the Seattle area until the morning commute.