Massive landslide years in the making, officials say


WHIDBEY ISLAND, Wash. -- People on Whidbey Island are trying to get their life back to normal after Wednesday's massive landslide.

On Thursday, most of the 34 evacuated homeowners were told it was safe to go back in their homes. A preliminary report issued by the Department of Natural resources said the massive landslide was a small portion of a much larger "landslide complex" that is approximately 1.5 miles long and may date back as far as 11,000 years. The slide uplifted the beach as high as 30-feet above the store and moved approximately 200,000-cubic-yards of dirt.

But many area residents aren't concerned about how much dirt was moved or when the landslide may have started. Many, like area resident Morgan Bell, just want to return home. Some are finding that to be a challenge. Morgan Bell's home was cut off Wednesday. She had to hike to get out, but that wasn't an option for her elderly mother.

"My mom, they took her down to the beach and carried her out on a boat," Bell said.

Bell got the chance to hug the firefighter who saved her mother before hiking back down to her house to try and salvage what she could.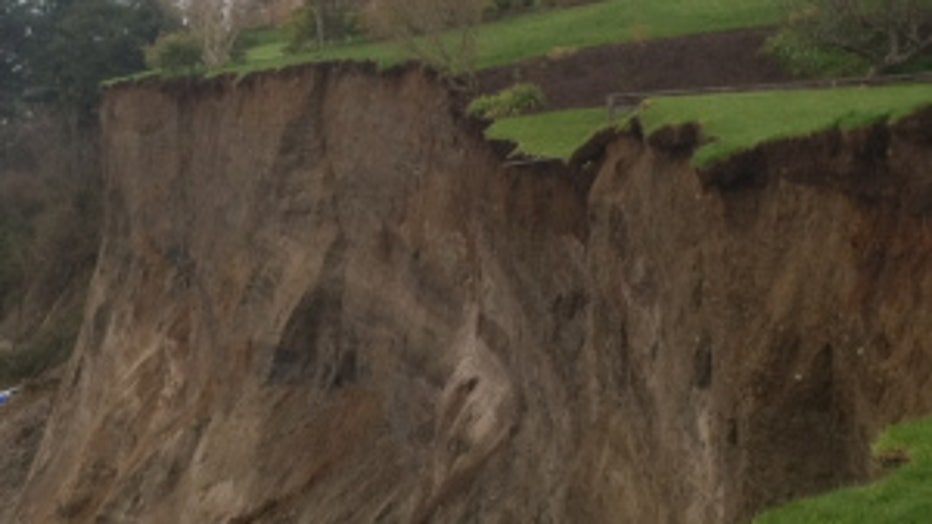 Massive landslide in Ledgewood neighborhood on Whidbey Island


State geologists believe the landslide started ten years ago. More than 5 million square- feet of land dropped away, taking with it hundreds of tall trees. It also left a new cliff side, dangerously close to some homes.

"This is a much better view than it used to be," said Ralph Young. "Now we've got a five million dollar view with maybe a five dollar house."

Young was worried his home would be red tagged, which essentially makes it unlivable. But so far, only one home, pushed off its foundation by the slide, has to be abandoned. Four other homes have been yellow tagged, meaning owners can come back and remove items, but not spend the night.

Local Fire Chief Ed Hartin said those designations may change if the ground stabilizes.

"The longer the period of time we have no movement, the better off we'll be," said Hartin.

But even if the ground stabilizes Hartin is not sure when or if the lower road will be repaired to give people access to their homes.

"I'm concerned that if they can't rebuild the road, they'll condemn the houses," said Bell.