Massive fire at crematorium sparked by 500-pound body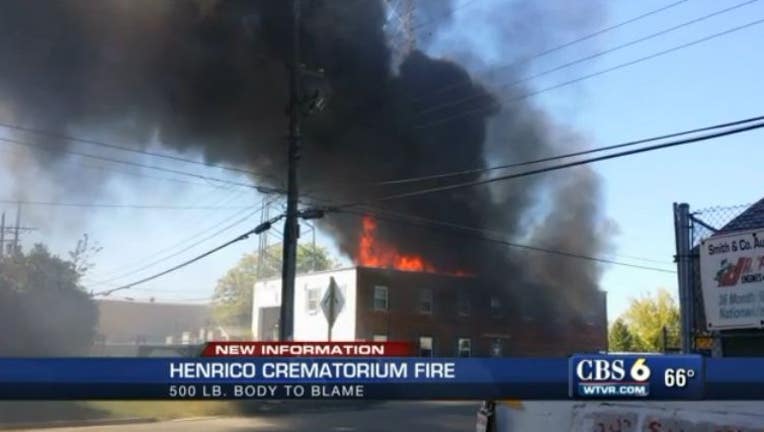 RICHMOND, Virginia – A massive fire at a crematorium in Virginia was sparked after a furnace got too hot during the cremation of a 500-pound body said fire officials Wednesday.

"The Henrico Fire Marshal's office has determined the cause of the fire to have been accidental in nature," said Henrico Fire spokesman Capt. Daniel Rosenbaum. "The rubber roofing near the smoke stack was ignited by the heat of the stack."

WTVR-TV reported that three people inside the building were able to escape the flames unharmed. And fire crews were able to knock it down quickly after arriving on the scene.

Jerry Hendrix, Operations Manager of Southside Cremation Services in Henrico said he had never had anything like this happen in the 20 years he had been there.

"The man was a little larger than what we had done in the past," said Hendrix.

The body of an "average-size adult" takes two to three hours to cremate in a 2,000-degree crematory, according to the Cremation Society of Virginia's website. Larger bodies take longer.

"When the person is too heavy, the guy running the crematory needs to not have continuous heat coming down on the body. Otherwise it would get too hot," Emory Sanford , with Windsor Crematory in Brunswick, Virginia, said.

Sanford, who said he had been in the business nearly 10 years, added a person who weighed 300 pounds or more could take four to five hours to cremate.

"When we have a heavy person, it will be our first cremation of the day," Sanford said.

Lynne Helmick, the Deputy Executive Director of the Boards of Funeral Directors and Embalmers, said cremation facilities do undergo state inspections, however she was unable to provide details into the last time Southside Cremation Services was inspected.