Mass murderer Isaac Zamora paid minimum wage in state prison


MONROE -- It's been five and a half years since Fred Binschus' wife, Julie, was killed at his Sedro-Woolley home by Isaac Zamora.

"She was one of a kind.  There's not a day or hour that goes by I don't think of her," Binschus said Thursday.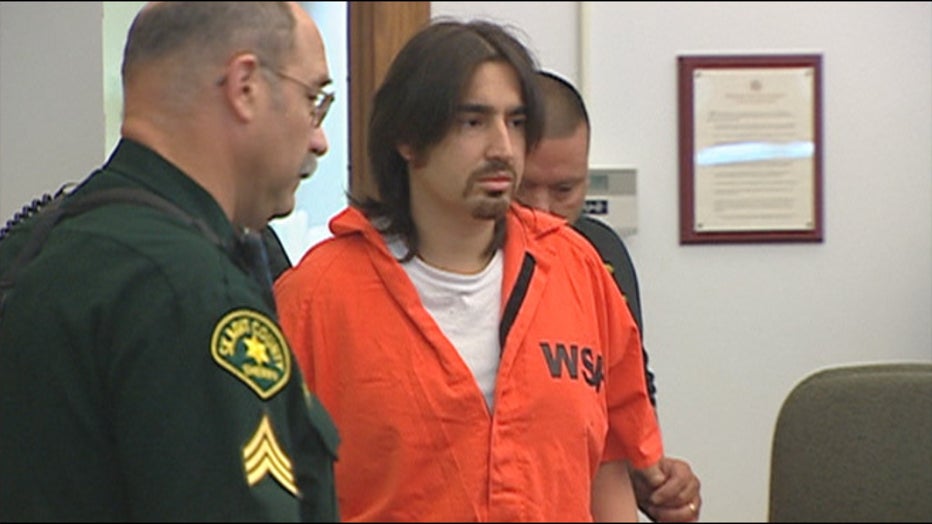 Isaac Zamora enters a courtroom for one of his hearings. (Photo: KCPQ-TV)


Isaac Zamora went on a shooting rampage that day, also firing at Fred, hitting him in the hip and back.  Zamora killed six people and pleaded guilty to four counts of first-degree murder, but also pleaded not guilty by reason of insanity to two counts.

That got him time at Western State Hospital, but in June 2013 a judge approved a transfer to the prison in Monroe because Zamora was a threat to hospital staff and considered an escape risk. But he is technically considered a psychiatric patient.

"My worst fear with this situation is that because he is considered a patient or boarder, not an offender, is that there will be preferential or different treatment," said Michelle Woodrow with Teamsters Local 117, the union that represents prison staff in June 2013 when commenting about Zamora's initial transfer.

Documents obtained by Q13 FOX News show that is exactly the case -- that Zamora is being paid minimum wage to work as a part-time janitor or porter in prison.

Most inmates make only 55 cents an hour and can work their way up to $2.60, but aren't allowed to make more than $55 a month.  A time sheet from the state Department of Corrections shows the hours Zamora logged between Dec. 21 and Feb. 6.  So far, he's only been paid about $95 in his part-time position, but victims feel it's setting a concerning precedent.

"It's really wrong for him to have any rights.  A prison is for punishment, not to reward you for a heinous crime like he did," said Binschus.

Emails between the Department of Corrections and Western State officials show it is the state Department of Social and Health Services, the agency that manages the hospital, which is paying Zamora this money.

An email from Jan. 28, 2014, reads "Mr. Z now has a part time porter job. We need to find out how to get the money for his pay from Western State Hospital into Mr. Z's account. He will be paid about $9 an hour".  The emails then show confusion whether to pay Zamora with a check or money order.

"That is wrong, to give someone like that a job.  He should be locked up and have bread and water, is what I think," said Binschus.

Last week, there was a hearing to determine if Zamora will become a permanent offender in prison and fall under DOC custody, or remain a DSHS "boarder," as he is now.  Skagit County Superior Court Judge Michael Rickert ruled to keep the situation as it stands and revisit the case in June.  That means for now, DSHS will continue to pay Zamora minimum wage to work there.

"It gets my blood pressure up because I didn't get any closure over this.  Everything was about him.  He's just got way too many rights," said Binschus.

Q13 FOX News asked DSHS to answer the following questions about this story:


Here is the response received from Kathy Spears, DSHS spokeswoman:

"Under state and federal laws and with a threat of damages (fines) for violating those laws, we cannot even say if someone was or is a patient at one our state psychiatric hospitals."

Spears later sent more information:

"Prior to 2010, we did not have the legal authority to transfer patients from a state hospital to DOC.  We gained legislative authority to transfer a patient committed as not guilty by reason of insanity to DOC, if they present an unreasonable safety risk which, based on behavior, clinical history, and facility security is not manageable in a state hospital setting. There has been one transfer.

"Eastern and Western State Hospitals provide a range of vocational opportunities to patients at minimum wage. The work tasks assigned to patients represent  work that would have to be performed to support the hospital whether it be a patient or employee. Some of those tasks include Janitorial, laundry, and coffee shop."

Q13 FOX News has filed a public disclosure request to try to gain more information about this story and will update you as soon as we can.

---

Read documents obtained by Q13 FOX News here.