Maryland Legislature votes to repeal death penalty; will be 18th state


ANNAPOLIS, Md. -- The House of Delegates voted Friday to repeal Maryland's death penalty, sending the measure to the governor for his certain signature.

With the repeal vote, Maryland is the sixth state in as many years to repeal the death penalty and the first south of the Mason-Dixon line. It is the 18th state to abolish the death penalty, a fixture of its laws since colonial times.

The 82-56 House of Delegates vote came after an impassioned debate. The legislation cleared the state Senate last week 27-20.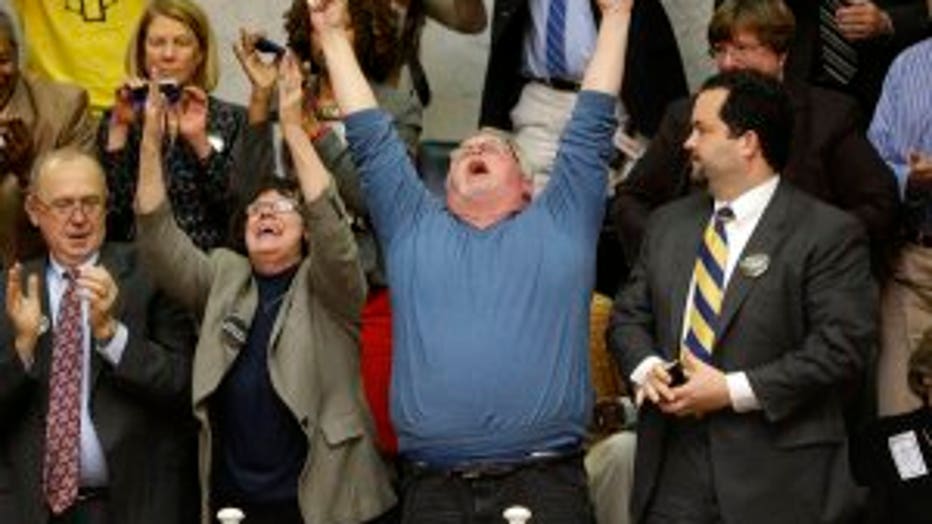 Left to right: Sylvester and Vicki Schieber, whose daughter Shannon was murdered; Kirk Bloodsworth, who spent several years on death row for a crime he did not commit, and NAACP President Ben Jealous celebrate the passage of SB276, which repeals the


"Today's historic vote is a long time coming," Del. Heather Mizeur told colleagues, saying the death penalty has not been used fairly nor without mistake in Maryland's history. "Who are we to be the judges?" the Montgomery County Democrat asked.

Del. C.T. Wilson, a former prosecutor, took an opposing view. "The death penalty is not a deterrent; it is justice," said Wilson, a Charles County Democrat.

The bill was sponsored by Democratic Gov. Martin O'Malley, who has pushed for repeal since taking office.

"Let's us to do the things that work to save lives," O'Malley said.

While opponents of capital punishment celebrated the vote, the legislation's passage in Annapolis will not necessarily be final. Death penalty supporters could petition the repeal of the bill to a referendum in the 2014 election, giving Maryland voters the final say. Polls show the death penalty has the support of a narrow majority of voters.

Five men, all murderers, are on death row in Maryland for crimes that date back as far as 1983. While the law does not directly affect their fate, it appears likely they will either have their sentences commuted to life without parole or that the state will simply abandon efforts to rewrite its rules for executions, which were invalidated by the Court of Appeals seven years ago.

O'Malley declined to answer questions about the fate of those men now that repeal has been passed.

With the repeal vote, Maryland is the sixth state in as many years to repeal the death penalty and the first south of the Mason-Dixon line. It is the 18th state to abolish the death penalty, a fixture of its laws since colonial times.

Court decisions – including one in 2006 that remains in force – have halted executions in the state for extended periods, but never before has the General Assembly voted to end the practice.

Among the groups credited with turning the tide this year were the NAACP and the Catholic Church. The NAACP, led by president Ben Jealous, made Maryland repeal a national priority. Archbishop William Lori of Baltimore, making common cause with O'Malley a year after fighting him on same-sex marriage, threw the church's support behind the repeal effort. The Catholics' lobbying was joined by a strong push from other faiths.

"I applaud the Maryland General Assembly for choosing to meet evil not with evil, but with a justice worthy of our best nature as human beings," Lori said in a statement after the vote.

Kirk Bloodsworth, the first death row inmate exonerated by DNA evidence, watched from the balcony as lawmakers invoked his name at least five times. The former Eastern Shore waterman sat next to Jealous as the vote count flashed on the board.

Bloodsworth stood up and raised his arms in the air three times. "Yes, yes, yes," he said, before catching Jealous in a bear hug.

Bloodsworth said his first reaction was to recall that 28 years ago this week he was waiting to be sentenced to die for the murder of a 9-year-old girl that DNA evidence would later prove he did not commit.

"This is a phenomenal day," he said. "We can't punish the guilty by walking over the innocent – ever."

Jealous said he isn't sure opponents will petition the repeal to referendum, but he promised that if they do the NAACP will contest it.

"We are committed to going the distance," he said. "This is one of our biggest state-level priorities this year and it will remain so until it is clear it is completely over," he said.

Delegates pleaded from the floor to keep or repeal capital punishment, touching on religion, reason, pragmatism and morality as they sought to sway their colleagues.

Del. Ted Sophocleus, a Democrat, recalled mopping up blood from a murder in his drugstore in the 1980s. He said he would not regret keeping the death penalty for heartless killers. "You're not going to make me feel guilty for pulling that switch."

-- By Michael Dresser and Erin Cox/The Baltimore Sun