Mariners: Plenty of solid candidates for starting catcher position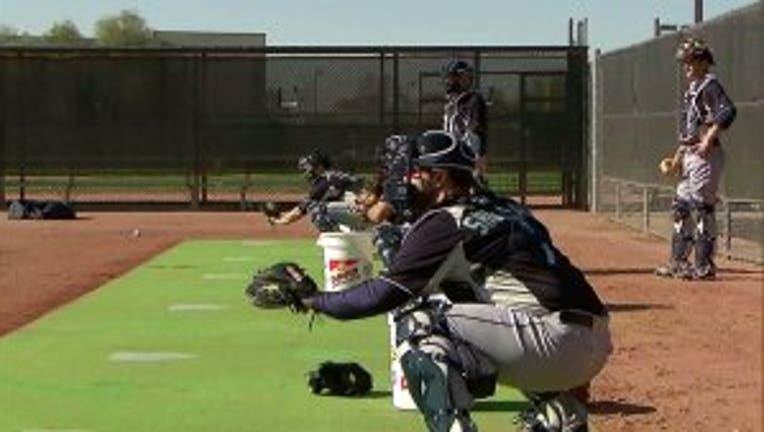 PEORIA, Ariz. -- There has been plenty of talk this off-season about the Mariners' pitching staff and the depth of the bullpen. But since spring training got under way here in Peoria last week, the focus has shifted to the relationships between the pitchers and catchers.



"The game begins with pitching -- and its pitching, catching and defense. The tempo of the game (is based when) the pitcher is gaining confidence from the catcher; it's vital," Mariners pitching coach Carl Willis said.

Willis is pleased to see this understanding among the team's top prospects.

"It's the biggest thing. I mean, if they (pitchers) don't trust you and your preparation and what you're calling, then there is going to be something missing there," said Mike Zunino, a Mariners catcher prospect.

Both Zunino and Jesus Montero have stood out and continue to impress while veteran addition Kelly Shoppach adds a wealth of knowledge to this aspect of the Mariners game.

"He's had a leadership personality for us. In particularly with the pitchers and the catchers, you know, which is what you like to see. You know he does have some presence. He's a good ballplayer, he's a winning ballplayer," said Mariners manager Eric Wedge.

Zunino credits Shoppach, too. "He's taught me everything from catching to managing pitchers and talking to them to hitting to throwing."

"A young team with a lot of athletism is very exciting and fun to be around. I thought it was a place I could fit in here," said Shoppich.

Just three weeks ago, there was only one catcher on the Mariners' 40-man roster, but now they have a lot of depth.

Just this week Ronny Paulino joined the team, bringing more than 15 years of experience with him, but the main message from the coaching staff is that they are extremely confident in this group of catchers, no matter what level of experience they bring with them.