Many favorite moments from Seahawks parade, celebration


SEATTLE -- From the parade to the celebration at CenturyLink Field, it was all about saluting the Super Bowl champion Seahawks.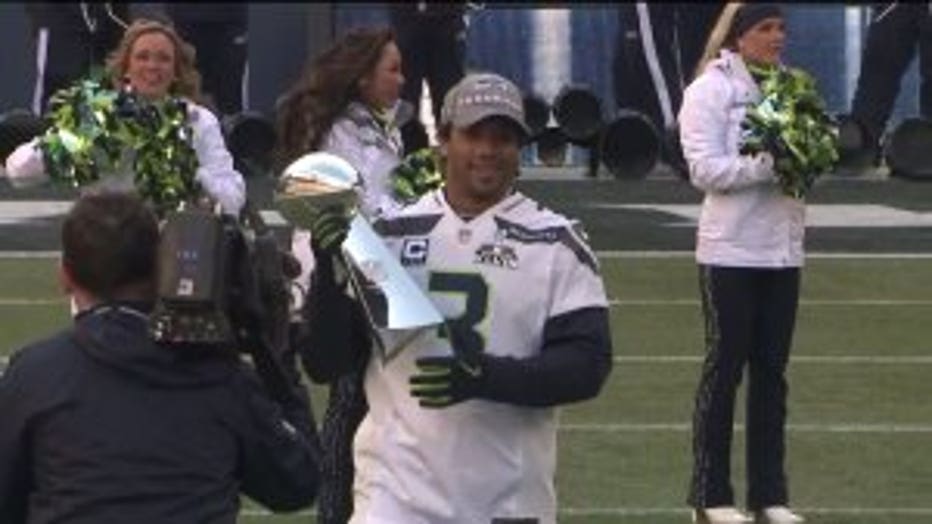 What was my favorite moment of the day? There were many.

-- Russell Wilson walking onto the field with the Lombardi Trophy raised, and the 12th Man going crazy, like they have all season.

-- And how about the turnout for Wednesday's parade? An estimated 700,000 fans.

-- And safety Kam Chancellor said it best, that he didn't realize the magnitude of winning a Super Bowl, it didn't really hit him until experiencing the celebration and seeing the swarm of 700,000 fans lining the streets.

-- Golden Tate told me it was pure chaos -- but a great chaos. I loved the images of him waving the 12th Man flag on the back of his vehicle.

-- The image of Marshawn Lynch, on the front of the "Ride the Ducks" vehicle, throwing Skittles to the fans.

-- And then Lynch spraying champagne over Wilson at CenturyLink Field.

Wednesday was all about the celebration -- the connection with the fans, who have been starved for a championship in one of the four major professional leagues since 1979. Yes, the Seattle Storm won two titles, which were both fantastic - but Wednesday's parade trumped them in national significance, magnitude and number.

And finally, the parade. Are you kidding me? I hope everyone who believes that sports doesn't have any intrinsic value -- doesn't have any cultural value -- saw the turnout and this city and region coming together and celebrating together, of embracing players and coaches who will become heroes in Seattle sports lore.

And all for the kids who missed school? They still got a huge education. They got an education in civic pride -- and memories that will last a lifetime.