Manhattan terror suspect had larger attack planned, requested ISIS flag for hospital room: docs


NEW YORK — The man accused of carrying out a deadly terror attack near the West Side Highway in lower Manhattan Tuesday planned to continue the mayhem on the Brooklyn Bridge, according to a criminal complaint released Wednesday.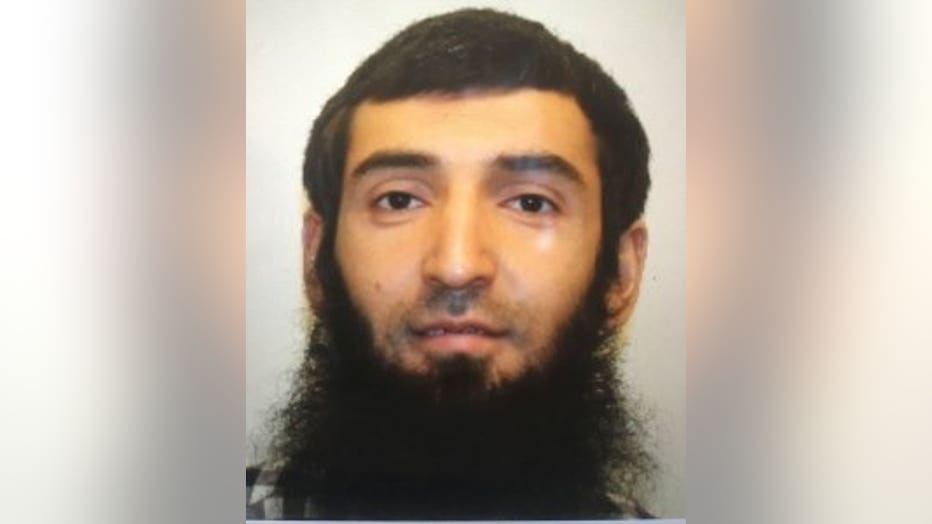 Sayfullo Saipov, 29, faces terrorism charges in the brutal attack that killed eight people and injured dozens when he mowed them down with a rental truck on a bike path near the World Trade Center.

After being injured by police, ending the attack, Saipov rejoiced in his Bellevue Hospital room, saying he felt good about what he had done and requested to display an ISIS flag in his room, the complaint stated.

Officials say Saipov was inspired to carry out the attack by ISIS videos he watched on his cellphone. Investigators recovered two cellphones at the scene — one with 90 videos featuring graphic ISIS-related killings. The second phone contained search history for "Halloween in NYC" and truck rental places, according to WPIX.

"Thousands of ISIS related images, and 90 videos," U.S. Attorney Joon Kim talked about what they found. "About 90 videos depicting, among other things, ISIS fighters killing innocent prisoners and running over them with a tank."

Authorities also recovered a black bag containing three knives, a wallet and a Florida license. Ten feet from the truck, authorities found a document that contained Arabic and English text.




According to the complaint, Saipov had been planning the attack for two months, but he had wanted to carry out an ISIS-inspired attack for the last year. On Sunday, Oct. 22, a week prior to the attack, he rented a truck to practice making turns.

He rented another truck on Oct. 31 at 2:06 p.m. in New Jersey for two hours with no intention of returning it, officials say, then headed to Lower Manhattan via the George Washington Bridge.

His plan, according to the complaint, was to strike as many people as possible in the area of the West Side Highway then head to the Brooklyn Bridge to continue the attack. He allegedly chose Halloween because there would be many people out and about for the holiday.

Saipov, a native of Uzbekistan, came to the U.S. legally in 2010.

Most recently, he lived in New Jersey, according to a law enforcement source. Neighbors said he recently lived at least part-time in Paterson, New Jersey, not far from New York.

Birth records in Ohio show that Saipov and his wife had two daughters, ages 2 and 4. A neighbor in New Jersey said they had a third child, a boy, earlier this year.

He remained at Bellevue Hospital, where he was recovering from being shot by the police officer who stopped the attack.

Late in the afternoon, Saipov was taken to a federal court hearing after a terrorism charge and other counts were filed against him by prosecutors, who said he was "consumed by hate and a twisted ideology."

Saipov appeared in a wheelchair, with his hands and feet shackled.

On Wednesday evening, several dozen people gathered for an interfaith vigil in Foley Square determined to drive home the point that Saipov may stand with ISIS but he does not speak for any faith, including Islam.

"The narrative that says that we as a Muslim community are somehow represented by the ill actions of one, is something that we're looking to move past now," said NYD Islamic Center Khalid Latif. "There's no other minority group in this country that has to deal with this as a reality,"