Man with rifle arrested after allegedly threatening to kill George W. Bush
NEW YORK (CNN) -- A New York man armed with a rifle, boxes of ammunition and a machete was arrested Friday after allegedly threatening to kill former President George W. Bush, according to a federal court complaint.

Benjamin Smith, a resident of upstate New York, threatened to "kill, kidnap and inflict bodily harm" on Bush, the complaint said.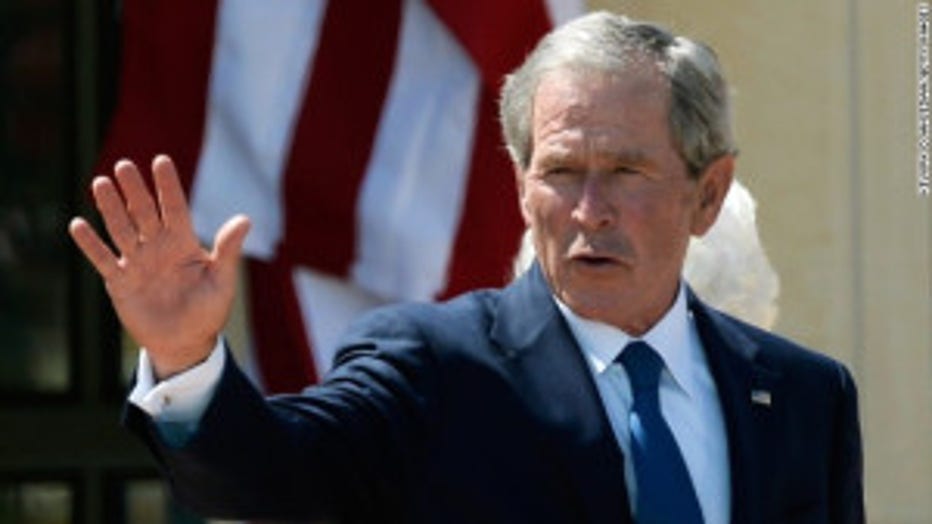 (Photo by Kevork Djansezian/Getty Images)


Smith also professed a love interest in Barbara, one of the former president's twin daughters, according to the complaint filed Friday in U.S. District Court in Manhattan.

"Bush will get his," Smith allegedly screamed as he was being arrested, said the complaint.

The U.S. Secret Service was alerted to the threat after Smith's mother found a note in the home they share in which he allegedly wrote that he's "going to work for George W. Bush and the Pentagon," the complaint said.

Smith also allegedly wrote: "I have to slay a dragon and then Barbara Bush is mine... America is finished. Obama, Etc."

Smith's defense lawyer, Peggy Cross-Goldenberg, did not immediately return a call seeking comment. It was not clear whether Smith remained in custody Saturday evening.

Smith's mother reported that a rifle was missing from the house and that she did not know where her son was.

Using cell phone tracking, the Secret Service located Smith, who they say had driven to Manhattan.

On Friday, agents found Smith sitting in his car in Manhattan, with a loaded .38-caliber rifle, two boxes of ammunition, a container of gasoline and a machete, according to authorities.

During questioning, Smith told Secret Service agents, "I'm divorced and not currently seeing anyone, but I am working on a relationship with Barbara Bush," the complaint said.

Threats against presidents of the United States are a federal crime.