Man who found 13th mutilated cat: 'If someone's this twisted, there's no way to know what they'll do'


LACEY, Wash. -- A 13th cat was found mutilated Thursday in Thurston County, police said. This one was found in the backyard of a home in a rural area on Steilacoom Road SE near Salmon Lane SE, east of Lacey.

"A homeowner found the cat and called it in," Thurston County Sheriff's Detective Ben Elkins said, adding that the owner of the cat has not yet been identified. The person who found it was not the owner.

The homeowner who found the cat, Dan Brainlee, told Q13 News Thursday night he noticed a "lump" on his lawn when he came out of the house Thursday morning. As he got closer, he saw that it was a cat with a flea collar on.

As he got closer still, he noticed that "a lot of the insides was gone."

"If someone's this twisted, there's no way to know what they're going to do," he said.




Investigators are pretty confident that the cat belongs to one of the neighbors in the area, Elkins said.

The way this cat was killed and mutilated does appear to be "the same MO as the other cases," he said, in which someone slices the cats open and removes their spine or other body parts.

Investigators believe the cases are connected because most of the cats' bodies have been left in public after the animals' spines have been removed or the animal has otherwise been mutilated.



The reward for information leading to the arrest and conviction of the person mutilating cats in Thurston County was increased to $36,000.

Thurston County Animal Services is the primary investigator, but many agencies are working on this.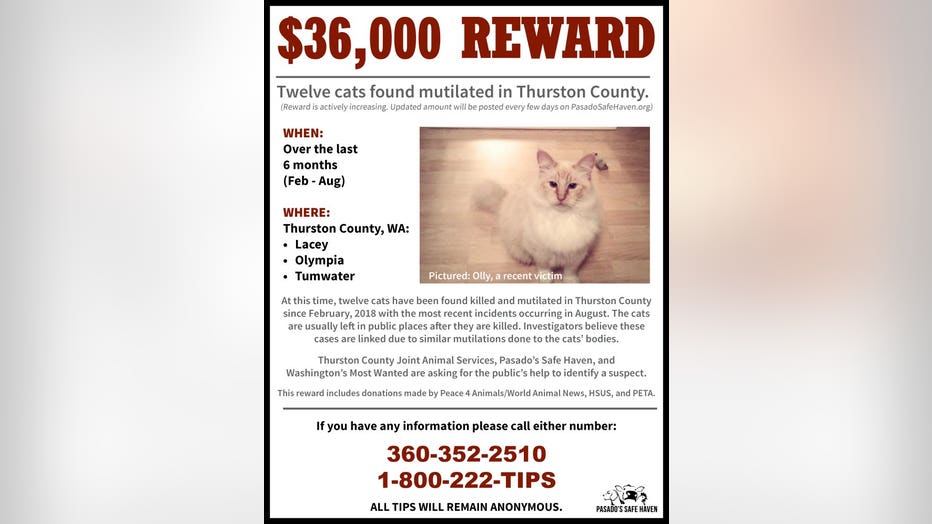 This is a breaking news story that will be updated as more information becomes available.