Man throws woman on subway tracks in Philadelphia; suspect arrested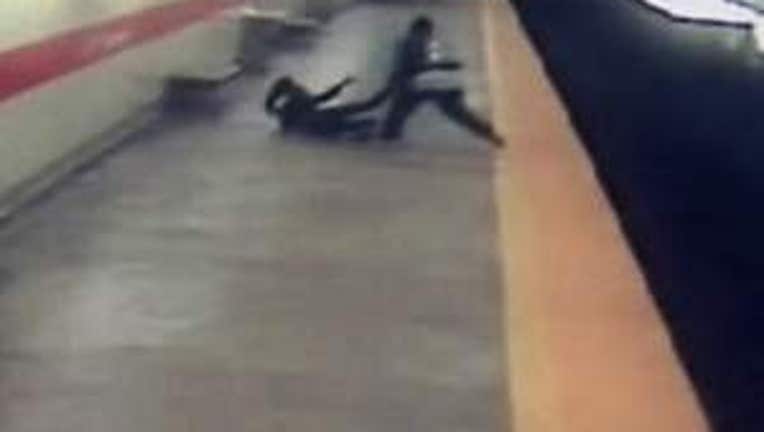 PHILADELPHIA -- A Philadelphia man has been arrested for allegedly throwing a woman onto the tracks of a subway in the third recent incident of underground violence on a major metropolitan mass transit system.

William Clark, 36, was arrested Thursday in connection with an attack earlier this week on the woman. who is seen on a security video being dragged across the passenger platform and hurled onto the tracks, police said. The woman, who was not identified, was able to get up and walk across the tracks and climb up onto the platform on the other side.



The attack comes in the wake of two incidents in New York City where riders were killed after being thrown in front of oncoming subway trains.

Unlike the New York attacks, the victim in Philadelphia sustained only minor injuries, cuts and bruises, Tom Nestell, chief of the Southeastern Pennsylvania Transportation Authority police, said at a news conference.

The suspect was charged with aggravated assault and theft and was being held on Friday in lieu of $2-million bail, officials said.

The incident took place Tuesday afternoon at the Chinatown station at 8th and Race streets, officials said.

The incident, captured by surveillance cameras, shows the suspect waiting alone for a train on the northbound platform. A woman enters the picture and sits on a nearby bench.

The woman, interviewed by local TV stations, which obscured her face, said the man asked to borrow a cigarette lighter.

"By the time I zipped my jacket back up, that's when he was on me, on my neck," the woman told CBS Philly. "I was just telling him, 'I don't have no money,' and he was just, like, 'Shut up.' "

The video clearly shows the man grabbing the woman around the neck and punching her several times. He then drags her across the platform and heaves her onto the track below the platform.

The 23-year-old woman got to her feet and walked to safety on the platform on the other side of the tracks. The man walked out of the station and fled with her cellphone, police said.

-- Los Angeles Times

To read the entire L.A. Times article, click here.