Man swept over Yosemite's Nevada Fall while swimming


By Victoria Kim

Los Angeles Times

YOSEMITE NATIONAL PARK, Calif. -- Authorities at Yosemite National Park were searching for a 19-year-old man who was swept over the edge of Nevada Fall on Saturday afternoon.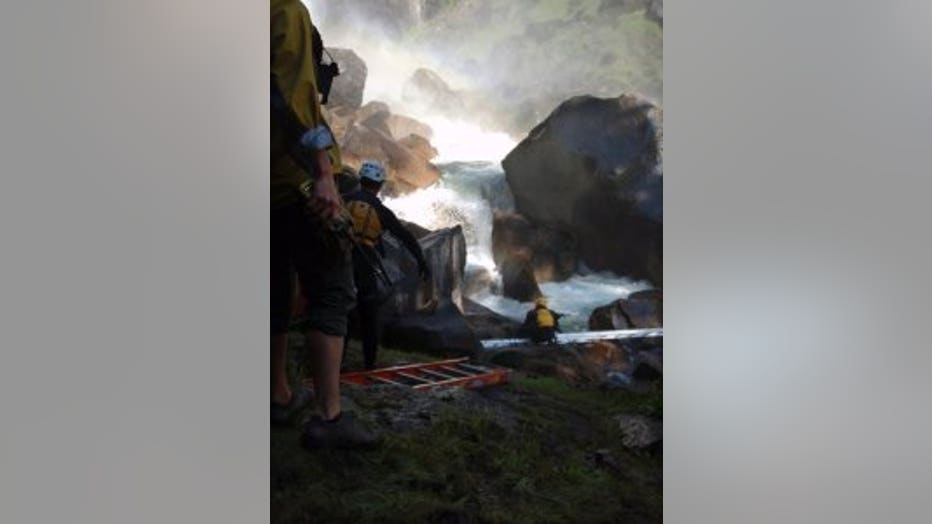 Rangers search for visitors swept over a waterfall in Yosemite National Park in 2011. (National Park Service)


Aleh Kalman of Sacramento was witnessed swimming above the 594-foot waterfall, about 150 feet from the precipice, when a strong current swept him to the edge of the fall shortly before 3 p.m. Saturday, officials said. The man, who was hiking the Mist Trail with a church group, was trying to swim to shore from a rock in the middle of the river, officials said.

Park rangers were combing the banks of the Merced River below the fall for signs of the visitor, continuing ground and air search efforts Saturday. At the time of the incident, the river was flowing at a "a very swift and powerful" speed – 500 cubic feet per second, according to park officials.

The Mist Trail was temporarily closed as crews, including 20 search-and-rescue personnel and three dogs, continued looking for Kalman.

Officials urged "extreme caution" around water in the park, saying rivers were running at high levels with low temperatures.

The majority of search-and-rescue calls at Yosemite come from along the popular Mist Trail. In 2011, three young people from a Modesto-area church group were swept over the edge of the 317-foot Vernal Fall after climbing over a metal guardrail.

Yosemite, which is visited by millions each year, averages 12 to 15 deaths annually, according to park officials.