Man shot in the back while defending fiancée in Seattle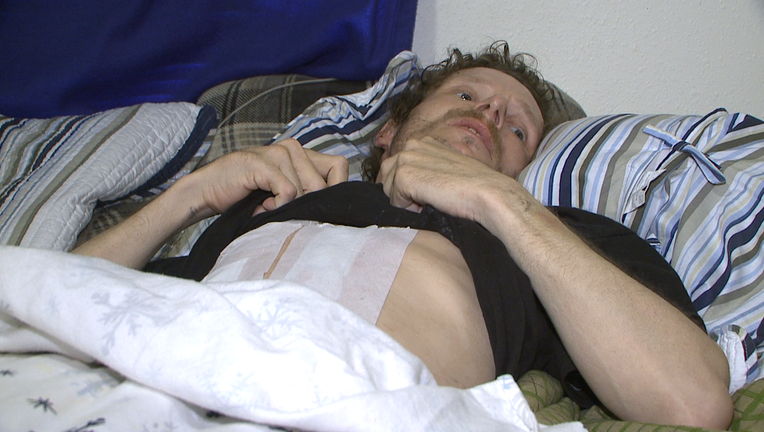 article


SEATTLE -- He's an innocent man who was shot in the back and left for dead.

Now he's helping police catch his attacker before he strikes again.

"I came here to get away from all this and I walked right up on it," shooting victim Dean Hill said.

It was April 25 at 1 a.m..

Dean Hill and his fiancée, Cathy Johnson, were walking home from a neighborhood bar in Seattle's Central District.

As they walked through the alley, they were approached by a gunman and two other men.

"There were three gentleman that popped out and asked what time it was and I said it's about 12:30 or 1, and he said, 'No, it's play time' and he pulled a gun. He had the gun to my head at first," Johnson said.

Frightened and with adrenalin rushing through her body, Johnson screamed and ran from the alley.

Trying to protect his fiancée, Hill grabbed for the gun.

"We struggled for a few minutes, but I fell to the ground because I slipped in the wet grass and they pulled out a gun and shot me," Hill said.

He was shot in the back.



"As I approached the apartment, I heard the gunshot and I heard him screaming," Johnson said.

Hill already has had five surgeries and will need three more.

He's got seven staples in his stomach and he's in a great deal of pain.

This is just the latest in a string of shootings and assaults in the Central District and the Rainier Valley.

Neighbors have complained to police and police have stepped up patrols in the area.

Like a lot of her neighbors, Jameela Muhammad has grown to accept the violence, but she doesn't like it at all.

"Sadly I'm kind of used to it. You have violence just about everywhere you go, especially in Seattle. It's just how close to home is it," Muhammad said.

Motive for the shooting is unknown as none of their belongings were taken.

Johnson is just thankful Hill is still alive and she wants his shooter brought to justice.

"I think it's ridiculous. I mean. I can't believe it. I don't understand it. If it's a gang, I don't understand it because they don't realize that they can take away somebody from their family and obviously people like that don't have hearts. They don't care."

Neither of the two got a good look at their attackers, it was just too dark in the alley, but police hope someone else may have seen the three men, perhaps running from the alley, or if you know them and where police can find them, call 911.