Man shot, critically injured, when violence erupts during protest at UW campus
UPDATE: Police are no longer looking for suspects. The suspect and another individual involved in a shooting that critically injured a man in Red Square on the University of Washington campus Friday night turned themselves over to police early Saturday morning.

The UW Police Department says the suspects were interviewed and released pending further investigation.

"Our detectives consulted with a deputy prosecutor and a collective decision guided by the prosecutor's office was made to release the two individuals," Major Steve Rittereiser said. "I want to be clear that although they were released they were the only individuals/ suspects involved. They were cooperative with investigators and releasing them poses no threat to the community."

-----------------------------------------------------

SEATTLE -- Violence erupted at the University of Washington Friday night as protesters opposed to a right-wing speaker at the campus and his supporters clashed. Bricks, firecrackers and paint were thrown at officers and others -- and then a gunshot rang out.

A man in the crowd crumpled over. The Seattle Fire Department confirmed an adult male was shot and had a "possible life threatening injury"; he was rushed to Seattle's Harborview Medical Center.

Harborview spokeswoman Susan Gregg later said the victim, who police said was 25 years old, arrived at the hospital at 9 p.m. and that he was in critical condition and undergoing surgery.

The gunman wasn't located. But a UW Alert said the possible shooting suspect's description was that of an Asian male, about 50, 5-foot-7, 190 pounds, glasses, with no facial hair, yellow cap and black jacket.

In a briefing later, UW police disclosed few details and said the investigation was ongoing.

Seattle Police Chief Kathleen O'Toole said the UW Police Department was heading the investigation. As far as the protests in downtown Seattle earlier, O'Toole said there were no arrests and no serious injuries other than the shooting on the UW campus. "Things went well," she said, but noting that the shooting "is a serious incident."
 

Before the shooting, hundreds of protesters had gathered at the UW campus to oppose the speaking engagement there by right-wing commentator Milo Yiannopoulos. Tensions grew between masked protesters who tried to block the doors to the building where Yiannopoulos was scheduled to speak and others who wanted to attend the speech inside.

Yiannopoulos writes for right-wing Breitbart News and is known for leading a harassment campaign that resulted in a lifetime ban from Twitter.

People marching against President Donald Trump in downtown Seattle had joined the Yiannopoulos demonstration at the University of Washington just prior to the shooting.

Fights also broke out between the protesters and Yiannopoulos' supporters. Police in riot gear moved in when the violence erupted.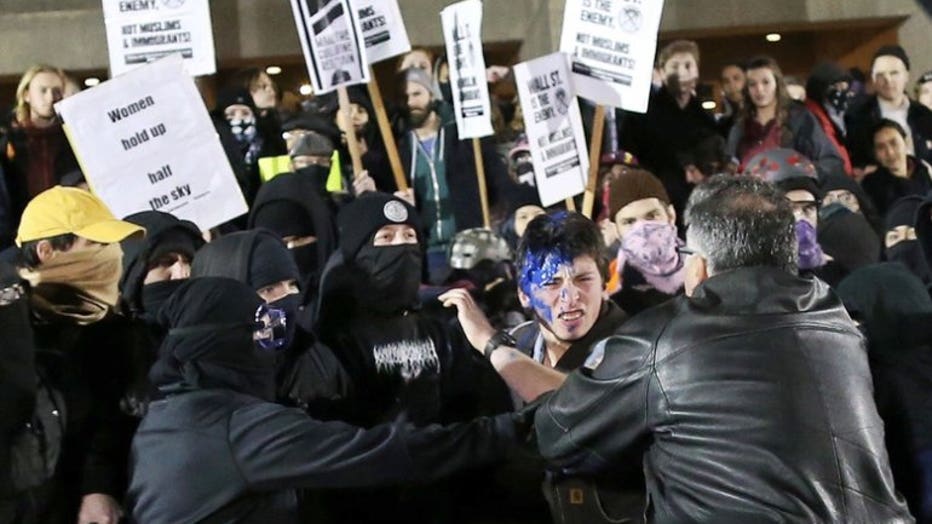 Alex St. Hilaire, a student at Mariner High School, is attacked by a group of protestors outside of the University of Washington's Kane Hall on Friday in Seattle. (Photo: Johnny Andrews / The Seattle Times)(Online thread by our news partners at Seatt


Milo's speech went on at the UW about an hour later than scheduled, but then Seattle police said the protesters outside began "throwing bricks, other items at officers," the police tweeted. This was before they announced a person had been shot.

The Seattle Times reported that police inside the event as the talk ended were keeping the audience in the room, saying "It's a very volatile situation right now." The newspaper said Yiannopoulos was whisked offstage.




Earlier, Q13 News reporter Steve Kiggins said that it appeared that police had detained a few of the protesters, who were chanting "No Trump, No KKK, No fascist USA" and who were trying to block the doors to the UW building where Yiannopoulos was to speak.

His speech, originally set for 7 p.m., was pushed back until at least 8 p.m.




 

WARNING: Graphic language




Yiannopoulos writes for the conservative Breitbart News and is permanently banned from Twitter after leading a harassment campaign against "Ghostbusters" actress Leslie Jones.

His speech at the University of California-Davis last Friday was canceled by its sponsors after protesters blocked access to the lecture hall.

University of Washington Police Department confirmed Thursday night that they saw a banner threatening violence against Yiannopoulos hanging from the Henry Art Gallery Bridge spanning 25th Avenue a couple of days ago, and they took it down and have it in evidence.