Man goes on shooting rampage against police in 3 cities; suspect shot, arrested (VIDEO)
MARYSVILLE -- A man apparently armed with a high-capacity rifle and driving a pickup went on a shooting rampage against police in three Snohomish County cities Wednesday night before police shot him and took him into custody in Marysville, police said.

The shooting spree began around 9:15 p.m. Wednesday when a man in a white pickup truck shot several rounds at the Granite Falls police station and patrol cars Wednesday night. From there, the man apparently drove to the Lake Stevens police station and opened fire on patrol cars, police said.

No one was injured in either of the initial shootings.

Below is the RAW scanner audio of Marysville Police Department:



Around 10:10 p.m., police spotted the suspect in his truck in the 64th Avenue NE in Marysville, where he shot at another police car. Police fired on the man, who stopped just east of the intersection of 51st Avenue NE and Grove Street.

He was shot and taken into custody, police said. The suspect obeyed officer commands, police said, and got out of the vehicle once he was shot.

The Snohomish County Sheriff's office said that the suspect is a 43-year-old Granite Falls man. He remains at Providence Regional Medical Center, where his injuries are not life-threatening, the Snohomish Sheriff's office said in a press release.

Marysville police Sgt. James Maples was injured, but was treated and released from Providence Medical Center in Everett. The Snohomish County Sheriff's Office said they didn't know if Maples was shot or hit "from debris from shots."

Maples has been with the department for 19 years.




Lake Stevens Police Commander Dennis Taylor said "many shots" were fired and "most  of the (police) vehicles were hit many times."

He said the man was apparently armed with a "high-capacity" rifle. Investigators have confirmed that several firearms have been found in and near the truck driven by the suspect.

"It sounds like the same guy, a person who was in a pickup truck," Taylor said of all the shootings at police. However, Snohomish County Sheriff's deputies said it was not known for sure if all the incidents were related.




Grove Street from 67th Avenue NE to 51st Avenue NE will be closed for the investigation and drivers are asked to avoid the area for the morning commute.

Some school buses were delayed Thursday morning in Marysville as investigation into the shootings continued.

This is a developing news story.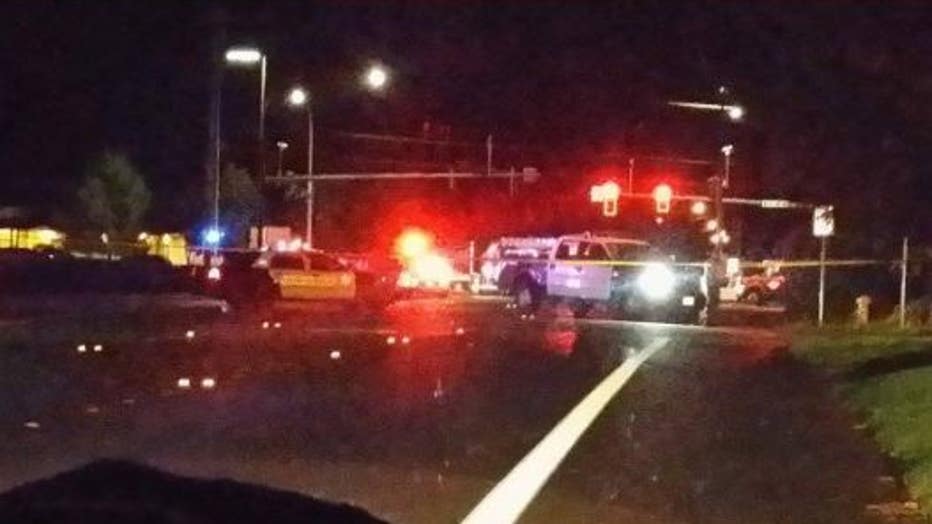 The police scene at the shooting of the rampage suspect in Marysville. (Photo: KCPQ-TV)