Man dies after clothing gets caught in Metro escalator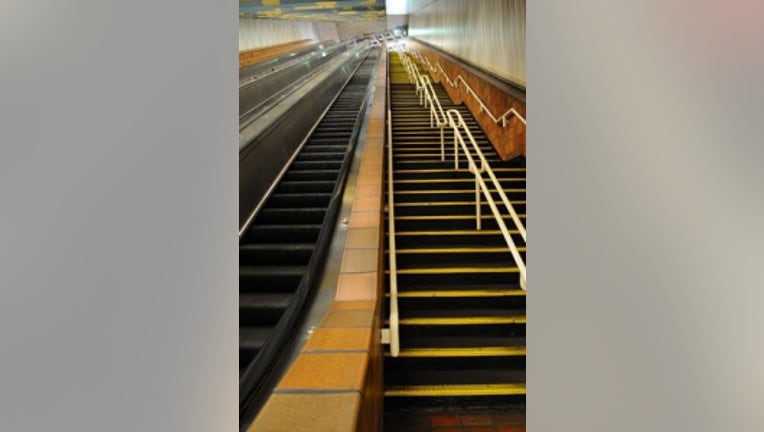 article


SEATTLE -- A Renton man who fell on an escalator died from asphyxiation when his clothes became entangled in the machine, the King County Medical Examiner's Office reported Thursday.

Maurecio Bell, 42, was riding an escalator around 5:20 a.m. Sunday in the University Bus Tunnel Station at 3rd Avenue and Seneca Street when he lost his balance and fell. According to investigators, his clothing got caught in the escalator and quickly compressed his neck.

A witness at the scene spotted the man not long after he fell and tried to pull his clothes out of the escalator. The witness also hit the emergency stop button on the escalator and gave the man CPR for approximately three minutes until Seattle police arrived. Police and ambulance units pronounced the man dead at 6:05 a.m.

According to the Seattle Police Department, video surveillance shows the man staggered and stumbled on to the escalator. Toward the end of the ride, he lost his balance and tried to grab the railing for support when the back of his shirt caught in the escalator. He could not free himself, and only briefly tried to rise before he stopped moving.

Investigators said they believe the man may have been intoxicated.

The escalator remains out of service at the station. The state Department of Labor and Industries recently investigated the machine in March, and the escalator passed inspection.

But the Seattle Times reported Thursday night that a Dec. 5 Labor & Industries inspection report shows that seven corrections and maintenance practices needed to be fixed by March 27. None of those fixes were made at the time of Bell's death, according to department spokesman Dave Wasser.

King County Metro Bus and Seattle Police Department are investigating the incident.