Magnitude 4.4 earthquake rattles Southern California


LA VERNE, Calif.  — A magnitude 4.4 earthquake rattled a wide area of Southern California on Tuesday night. But there were no immediate reports of damage or injuries.

The temblor struck about 7:33 p.m. and was centered about three miles north of La Verne, a San Gabriel Valley city about 25 miles east of downtown Los Angeles, according to a preliminary report by the U.S. Geological Survey.

It was followed a minute later by a magnitude 3.4 quake.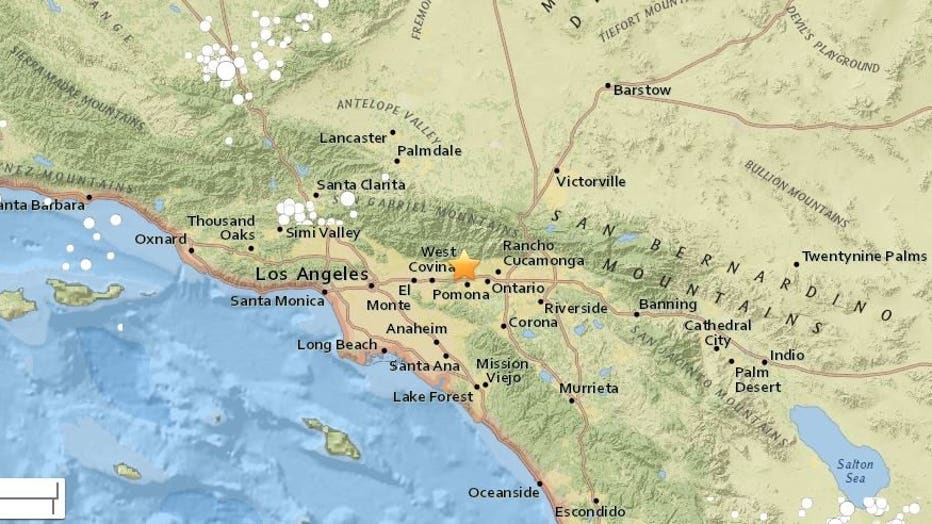 The relatively shallow depth, at 4 miles, allowed the quake to be felt across the region, reports KTLA.

"People who were very near it would have had strong shaking, potentially even throwing a few things off of shelves," Jones said during a briefing at the Caltech Seismological Laboratory. "As you get farther away, the shaking gets lower and more rolling motion."

Vickie Carillo and her son were sitting on the couch of their La Verne home, watching "Jaws 2," when the quake struck. "It was like if somebody had grabbed it and was shaking the house," Carillo told the Los Angeles Times.

Carillo said she screamed. Her family picked up their two Jack Russell terriers and ran outside, where they joined about a dozen neighbors.

The quake was felt as far as the Santa Clarita Valley, Victorville and Riverside.




Victor Flores said the temblor violently shook his two-story house in the hills.

"It was moving the whole house," he told the Times. "It shook hard for what seemed like 10 to 20 seconds, and then it just kept going. It was really loud too, kind of like thunder. It just hit really hard and quick."

The temblor made the water slosh in his swimming pool, Flores added.

The quake shook buildings for several seconds in downtown Los Angeles. It was also felt as a rolling motion dozens of miles away and as far away as the San Diego area, about 100 miles south.