Machinists to vote on Boeing offer today; possible impact


[trib_ndn vid=25491747]

SEATTLE -- Machinists will have the chance to vote on Boeing's latest contract offer Friday. What they decide could determine whether the new 777x airliner is built in Western Washington.

At a rally at Seattle Union Hall Thursday afternoon, members of the International Association of Machinists were fired up about Boeing's latest contract offer. They said they're skilled workers who are responsible for Boeing's success over the years. So they don't think they should be losing their pensions to keep their jobs.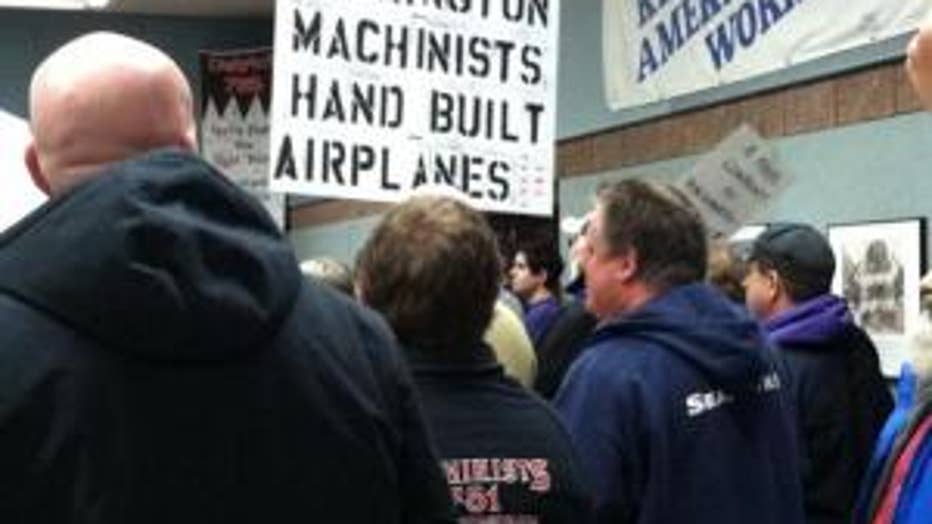 "I believe this contract is incredibly destructive to the 78 years of hard-earned gains that we have fought for," said union member Robley Evans.

In November, Machinists rejected Boeing's first offer by a 2-to-1 margin. Many say the new offer is no better, and it should be voted down, too. But they're not sure if it will be.

"I think they're forcing the vote on us and it's horrible timing," said Justin Strebe. "A lot of people are still on vacation. I don't think the absentee ballot system is going to work, so I don't think everyone's going to get their chance."

There is also concern about the outside pressure being put on Machinists to accept this offer.

"We've got the government leaning on us, we've got the international (union leaders) leaning on us, we've got the community leaning on us," said Evans.

Boeing has said they'll look at other sites to build the 777x, if this contract isn't accepted.

Some Machinists said they don't want to take that risk.

"If they move it, then you don`t have new hires. You have thousands of layoffs. There will never be new hires," said union member Mauri Osterberg.

"I'm going to vote yes, because I would like to secure a long-term contract for our community that`ll guarantee jobs," added union member Martin Walters.

Boeing hasn't commented on the specifics of their offer, but they did release a statement late Thursday, saying in part:

"This contract keeps the IAM workforce above market in wages, health care and retirement benefits."

It goes on to explain the work on the 777x will include composite wing fabrication and assembly.

"Current mechanics will have the opportunity to be trained for this new composite work, which could set the stage for the next generation of manufacturing innovation in the Puget Sound region," the statement said.

Many at Thursday's rally are confident they'll get that work in the end. But they say they're not going to sacrifice their retirements to guarantee it.

"I feel we have to make this stand, and I don`t feel we`re making that much of a risk. I think they're bluffing. It`s too risky for them to leave here, there`s too much they have at stake here," said Strebe.

Voting will take place at five different locations in the Puget Sound region, from 5 a.m. to 6 p.m. Friday.

Vote results will include ballots from union members in Kansas, Oregon and Washington.  The estimated time for results to be announced is between 8:30 p.m. and 9:30 p.m. Friday, the union said Thursday night.