Machinists hold rally against Boeing 777X contract offer


EVERETT -- Just hours after Gov. Jay Inslee signed a major package of tax break extensions for Boeing to ensure it builds its new 777X in Washington state, hundreds of Machinists union members gathered to voice their opposition to the latest contract proposal from the aircraft manufacturer.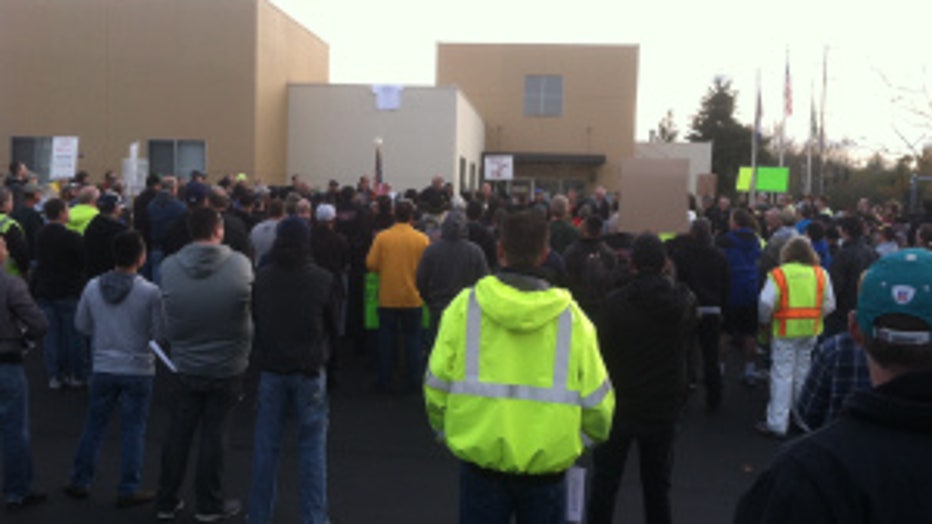 With the flick of the wrist, Inslee signed off on a nearly $9 billion tax break directly aimed at Boeing -- a package of incentives passed by the Legislature over the weekend.

He said he was signing it "to assure us the longest wing, the longest commitment and the deepest set of protections for Machinists and taxpayers in the state of Washington in Washington state history."

Boeing's leadership was on hand for the bill-signing and the generous offer at the Museum of Flight Monday morning.

Boeing Commercial Airplanes CEO Ray Conner said, "I believe, we believe, that we'll be able to take the competition head-on and win in the marketplace, which is the most important thing we can do as a company, as a state, as a nation."

But a new contract with Machinists still stands in the way of a done deal.

Boeing offered the Machinists union a new contract that includes take-backs. A vote is scheduled for Wednesday and needs 50% plus one of the union members to approve it.

Union leader Wilson Ferguson said, "There's things in there that are palatable, but it's still extortion."

Boeing workers say this new contract extension increases health care costs, decreases pay for thousands and replaces a pension plan with a 401k-style retirement option.

It leaves a bad taste in many mouths.

"If you're feeding me sugar candy and you're holding a gun to my head I'm not going to enjoy it," Ferguson said.

To keep work here, union members might need to take the deal.

Scott Hamilton is an aviation expert who has closely monitored the situation. He says if a deal isn't reached with machinists, Boeing will take the plane somewhere else.

"I don't think it's a bluff," Hamilton said. Back in 2008, when Boeing was talking about putting line two of the 787 in South Carolina, the union said you're bluffing, you're bluffing. Well, they weren't bluffing and there's no reason to believe they would be bluffing today."

Many Machinists say they will stand firm and vote no on this new contract.

"Are they crazy enough to do it (move the plane's assembly out of state)? Yeah, you bet they are.  But we're going to turn this down because it's a horrible deal and it's an insult," Ferguson said. "If they choose to pull up stakes and ruin the job market and the Puget Sound for the next 30 years, it's on them, not us."

Monday afternoon, hundreds of Machinists held a rally in front of the Everett Union Hall to voice their opposition to the latest contract offer from Boeing. The results of the contract vote will be announced Wednesday night.