Loose dogs wreak havoc on Everett neighborhood, bite 5 people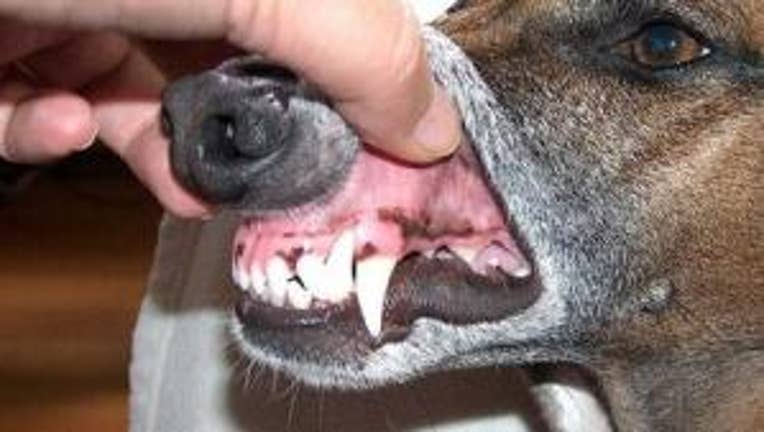 Two dogs reportedly went on a vicious rampage in Everett, escaping their yard and biting numerous people before one dog was killed and the other was captured.

The Everett Police Department is currently investigating the incident that left as many as five people injured.

Everett police received a 911 call of a man being attacked by two dogs at about 6:30 a.m. Saturday on the 1300 block of Lombard Avenue. According to police, a 44-year-old Everett man was attacked as he walked the street.

"They had him down and you could see they had ripped open his back and they had a hold of his legs.  They were trying to drag him off," witness Martha Hickey said Monday.

The man was saved by a passer-by that scared the dogs away.

"They chewed him up, tore a hole in the back of his shirt and he had some scratches from the paws down the back and they chewed on the back of his leg," Eardley said.

He was transported to Providence Medical Center in Everett with non-life-threatening injuries.



Everett police are also investigating three additional reports of attacks. A 27-year-old Everett woman reported being attacked as she left her car for work. Another 44-year-old Everett man reported dogs bit him while he was sleeping. The dogs also reportedly attacked a Everett woman, 54, as she stood in her driveway.

As Everett police started to track the dogs Saturday, officers used a public address system to warn of the threat the dogs posed to the Everett neighborhood.

Police found one of the dogs in 1500 block of Grand Avenue. Police usd a stun gun on the pitbull terrier, and it died on the scene.

The second dog, a boxer, was found at its residence in the 1700 block of Lombard Avenue. Everett Animal Services impounded the animal. It is being held in quarantine pending the outcome of the police investigation.

The two dogs both had a history and were deemed Potentially Dangerous Dogs last year by Everett Animal Services, Everett police report.

Prosecutors will decide if charges will be filed.