Local searcher: 'You see kid's clothes, you see baby clothes ... that starts to tug on you'


DARRINGTON, Wash. -- Up to 60 local residents, many of them loggers and heavy machine operators, were approved to go into the slide area Tuesday to help officials with the search for victims.

They all met at the Darrington Fire Department in the morning, hoping to make a difference. By nightfall, they left in awe of the devastation.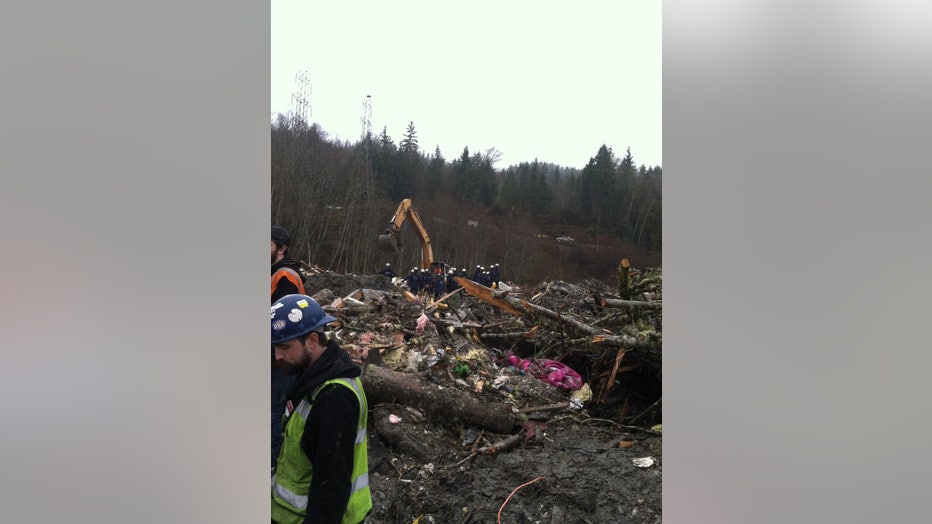 A volunteer took this photo on Tuesday, March 25, 2014, while working on the search for mudslide victims. (Courtesy photo to KCPQ-TV)


Steve Gladsjo believes seven of his friends are buried under the mountain of mud and debris.

"I don't have the words to describe it, it's just nasty," Gladsjo said.

He took cell phone video while digging for 12 hours in knee-deep muck hoping someone, anyone, was alive.

"It was terrible. There was family there and, when victims were found, they were really upset," Gladsjo said.

As the death toll climbs, the desperation sets in.

"Little children should never die. You see kid's clothes, you see baby clothes, and that starts to tug on you," Darrington firefighter Jeff McClelland said.

Firefighters say the hardest moments are when they find personal items because there is a story behind every one.

"I could see it was a kid's book and I opened the book and it said 'Three Orphan Kitties' was the title underneath. It said the world is a beautiful place; I just burst into tears," McClelland said.

The community of Darlington is fighting off those tears with the help of their neighbors.

The support is tremendous and donations continue to pour in from near and far.

Businesses like Costco and Home Depot are bringing in truckloads of food, and residents are giving their time.

"Pushing out the sack lunches for the first-responders and making dinner for them," a Darrington resident named Samantha said.

They are in this together and said they are not giving up.