Liquid meth: Feds seize drugs, guns & cash in major bust in Pierce, King counties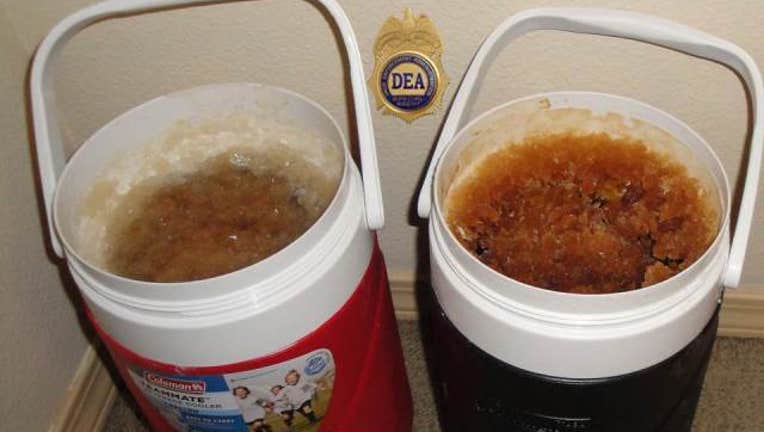 article


SPANAWAY -- People in one quiet Spanaway neighborhood had no idea that a sophisticated drug ring was operating out of a house on 198th Street East until the bust happened early Monday morning.

"We heard cops say, 'Get down on the ground!' And went and looked outside and there was probably about 15 SWAT guys pointing guns two houses down," neighbor Rich Renteria said Tuesday.

Investigators say the crew arrested was smuggling meth and black tar heroin in from out of state and selling it on the streets of Western Washington.

"This is a very significant bust.  This organization is moving multiple pounds of meth, which is a highly addictive drug, here in the Pacific Northwest. What they were doing was transporting, smuggling the drugs up in liquid form, allowing it to evaporate, taking the crystalized methamphetamine and then washing it out with acetone so they can sell it on the street," DEA Special Agent Douglas James said.

The feds raided a total of 15 separate locations in Spanaway, Tacoma, Lakewood, Milton, Graham, Puyallup and Kent.

During the course of the investigation agents seized:

* 66 lbs. crystal meth

* 2 gallons liquid meth

*  2.5 lbs. black tar heroin

* 25 vehicles

* 7 firearms

* $ 300, 000 cash.



Neighbors are still shocked that there was no indication anything illegal was happening.

"I didn't know anything was going on next door. I just see a couple of guys, but that was it," neighbor Milvilin said.

James said other drug organizations in Washington are now on notice.

"We want to let the criminal organizations out there know that your days are numbered.  We're going to use all of our investigative resources at our disposal to identify you and come after you," James said.

The DEA says the crystal meth they seized had a street value of more than $2.5 million.