Lion that killed Seattle-area intern escaped from pen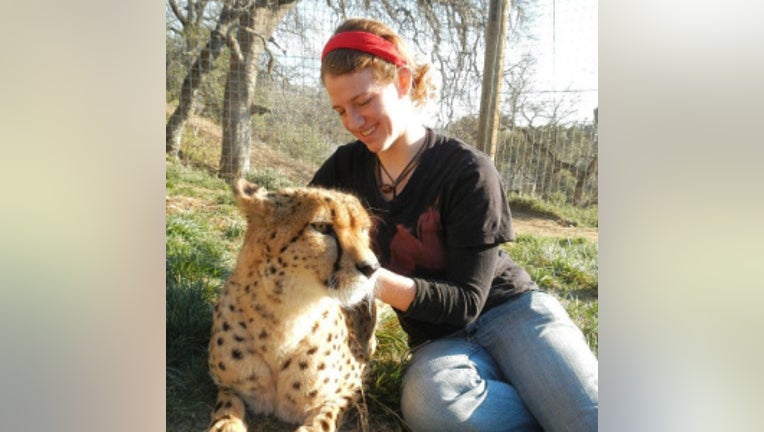 FRESNO, Calif -- An animal sanctuary worker from the Seattle area was killed by a lion that escaped its cage Wednesday and she died quickly of a broken neck, the Fresno County coroner said Thursday.

Coroner David Hadden said an autopsy revealed Dianna Hanson, 24, died instantly, the Fresno Bee reported. He also said her neck was broken at the start of the animal's attack, so she didn't suffer from the numerous bites and clawing that followed.

According to CNN, the 350-pound African lion escaped its pen and moved into a larger enclosure to kill Hanson, a Brier, Wash., native.

Citing investigators, Fresno County coroner Dr. David Hadden said Hanson was cleaning a main enclosure at Project Survival Cat Haven, thinking she was safe from two lions that had been inside before. But somehow, one of those animals -- a 5-year-old lion named Cous Cous -- escaped and attacked her.



[trib_ndn vid=24564926 site_section=dash]

Haddon declined to go into further detail out of respect for Hanson's family, the Bee said. The coroner said earlier Thursday that a preliminary inspection showed Hanson suffered bites and scratches all over her body, including her neck, head and the abdominal area.

The victim grew up in Brier and graduated from Mountlake Terrace High School in 2007 and from Western Washington University in Bellingham in 2011; she had studied biology.  On her Facebook page, she said she also worked as a lifeguard for the city of Shoreline.

The founder of wild cat park, Project Survival's Cat Haven, described the attack as "devastating."

At a news conference Thursday, founder Dale Anderson said his organization is fully cooperating with the investigation and that the sanctuary had been "incident free" since 1998.

"Our whole staff," Anderson said, fighting back tears, "it's devastating."

Now, the Hansons are trying to process what happened Wednesday, when one of Dianna Hanson's beloved cats — a 4-year-old male lion named Cous Cous — attacked and killed her at Cat Haven.

Officials have released little information about the attack but said Hanson and another volunteer were the only two at the 93-acre nonprofit sanctuary.

The Fresno County Sheriff's Department reported receiving the emergency call shortly before 12:30 p.m. Friends of the workers said the routine is to feed the cats about noon. The usual method is to go into a small enclosure, leave the food, get out, then let the animals inside from a larger enclosure. According to the sanctuary's guidelines, caregivers should never be inside with the big cats.

The more experienced volunteer repeatedly tried to coax Cous Cous into another enclosure, away from the victim, officials said. Police fatally shot the animal before rushing to Hanson, according to sheriff's department officials, but she was pronounced dead at the scene.

Authorities would not say whether the lion was in the larger enclosure or the feeding area. A necropsy is also planned for the lion.

Cat Haven, which houses lions, tigers, cheetahs and jaguars, draws about 10,000 visitors a year. It was closed Wednesday as part of its "winter hours."

Dozens of people have flocked to the park's Facebook page to express condolences for both Hanson and the lion. A message posted Wednesday night said the park was closed until further notice.

The victim's father, Paul Hanson, issued the following statement Wednesday night:

"Today,  my beloved daughter Dianna (age 24) was killed in a work accident at Cat Haven, a big cat refuge near Dunlap, CA. She was killed while working in the lion's cage. It's made the national news.

"Dianna really loved her 6-month internship at Cat Haven. She and I drove down there from Seattle on Jan 1 & 2 She was so excited at working in Cat Haven and living in California. Once there, she gave me the tour and showed me all the big cats there with which she would be working. Of course, Dianna being Dianna, her favorites were the tiger and the lion, CouCous, who killed her today. You can see on her Facebook page all the big cats she loved so much down there. Especially the linx and the very docile cheetah, Tango. He's in a lot of her posted photos.

"Please honor Dianna's memory by helping her favorite cause: preserving the remaining big cats in the world. She would ask us to do that for her.

"Di, we will always love you. And we will miss you so much. But I know that you will be happy. For now, you truly are in the eternal "Cat Haven"

"I love you

"Dad."

The city of Shoreline issued a statement Thursday saying it was "saddened to hear about the tragic death of one of its employees, Dianna Hanson. Dianna had been a lifeguard/swim instructor for the Shoreline Pool since 2005 and planned to be back at the pool this summer after she completed her internship at Project Survival Cat Haven in California.

"Dianna started working at the Shoreline Pool when she was 16 years old. It was her first job. Over the next eight years, Dianna grew and matured, becoming a mentor to the Pool's younger staff. She taught them to take pride in their work by taking pride in her own work. She had the uncanny ability to make those around her feel comfortable and included. Dianna became one of the Pool's most popular swim instructors and touched the lives of countless children in the Shoreline community."

Dianna graduated from Western Washington University with a degree in biology in 2011 and her passion for big cats was evident. Dianna spent six months in Kenya working on a big cat preserve last summer and was looking forward to internships at other big cat sanctuaries when her internship in California was over.