Lightning zaps trees, a Shelton school, knocks out power ... but starts a car


SHELTON -- People living in and around Shelton for decades say it was one of the worst thunder and lightning storms they've ever seen.

"There was this gigantic, gigantic boom, kind of made me go, oh no," Shelton resident Barb Everson said.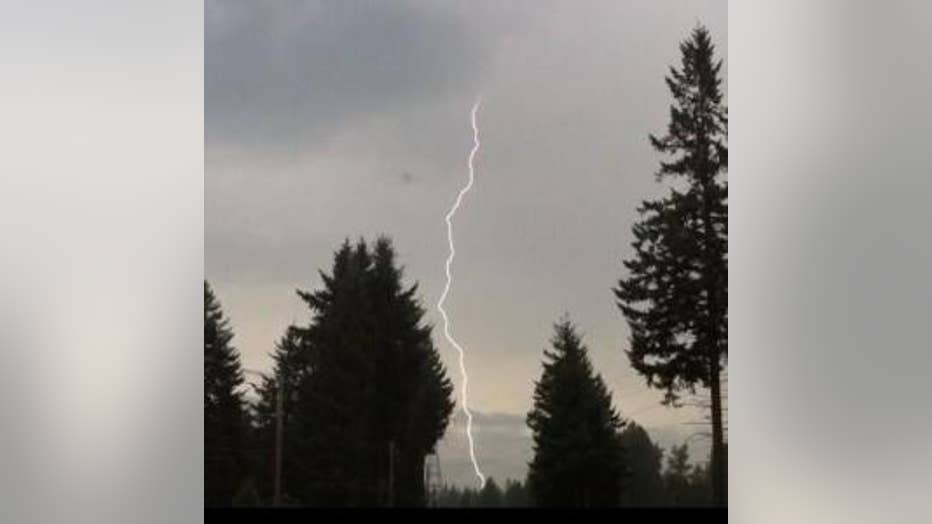 The storm rolled into town early Thursday afternoon and a second followed.

Deafening claps of thunder followed by lightning -- a lot of lightning -- and rain, too.

That quickly led to power outages.

About 1,800 PUD customers without power kept line crews busy for hours.

"Couple of strikes kept getting closer and the house started shaking.  Strike must have hit on the power grid and we were out of power," Shelton resident Brad Hanson said.

Flora Chadwick was also in the dark.

Lightning struck hit a tree and the surge traveled right into her home.

"I heard a lot of thunder and I woke up, came out and saw a nearby tree had been struck by lightning," Chadwick said.

When lightning struck the huge tree, the damage didn't stop there, it arched and hit her car, burning out its electrical system.

"The car was running, the wipers were on.  I thought my boyfriend was going somewhere, but it was actually the lightning strike had started it," Chadwick said.

The storm also caused flash flooding and slowed traffic.

Calls to 911 kept emergency crews busy but the good news is no one was seriously hurt.

Viewers sent in photos of a few trees felled by lightning in Shelton. Lightning was believed responsible for knocking out power to 24,000 Peninsula Light customers in Gig Harbor and the Key Peninsula at around 6 p.m. Thursday. Most had power back on by 8 p.m. Lightning also reportedly hit and damaged Mountain View Elementary School in Shelton.