'Lazy' bloodhound goes out for morning walk, finishes 7th in Alabama half marathon


ELKMONT, Ala. - A "lazy" Alabama bloodhound out on her morning walk decided to join in the fun at a half marathon, and wound up finishing 7th overall.

WHNT reports Ludivine the bloodhound finished in the top 10 in the Elkmont Half Marathon -- The Trackless Train Trek on Jan. 16. She and her owners live on a farm near the race start line. When she was let out to take her morning walk, she decided to join the race and ended up running the entire 13.1 miles. She competed without human or leash.

"Her owner doesn't even run! That's what makes the story even better," race director Gretta Armstrong said.




April Hamlin, the bloodhound's owner, said she didn't know Ludivine joined the race until a friend called to tell her about her unsuspecting celebrity pet.

"Apparently she went to the race start and took off with the runners at the starting shot. She stayed with a few of the front-runners, ran off to sniff some animal carcasses, romp in the water, and then back to the race. I understand she stayed on the course for 13.1 miles, finished seventh, and was the highest placed female," Hamlin said.

She said Ludivine is a two-and-a-half-year-old bloodhound who is usually, "very lazy."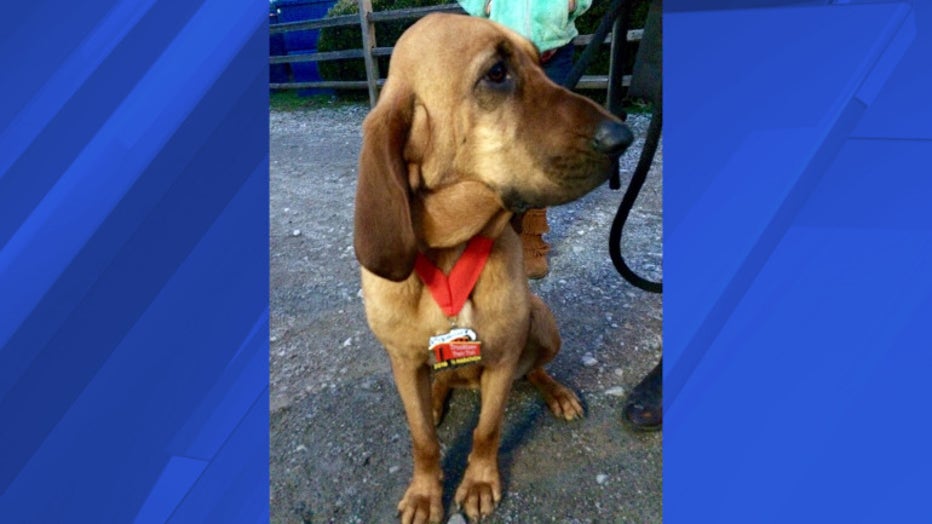 Ludivine wearing her medal (Photo: Molly Mitchell/WHNT)


Ludivine finished an unofficial seventh out of 165 runners with a time of 1:32.56. Although not counted as an official participant in the race, the athletic dog was presented with a well-earned medal. Hamlin said race organizers told her Ludivine was quite an inspiration for race participants.

The course began in downtown Elkmont, Ala., before winding through the rolling rural roads around the Alabama town, according to the race's website. Money raised from the race benefits the Elkmont High School cross country and track/field programs.

Hamlin said following the race, Ludivine was exhausted and slept for the rest of the day - which isn't out of the norm for her, apparently.

Ludivine is such a hit that race organizers plan to call future races the "Hound Dog Half."

The CNN Wire contributed to this report.