Lawyers: Former Rep. Jesse Jackson Jr., wife to plead guilty to charges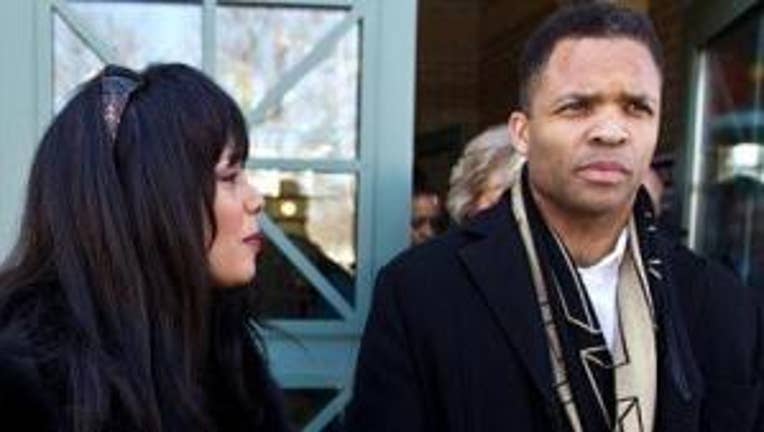 CHICAGO -- Former Rep. Jesse Jackson Jr., D-Ill., and his wife Sandi intend to plead guilty to federal charges alleging the former congressman misused $750,000 in campaign funds while she understated their income on tax returns for six years, their lawyers say.

Jackson, 47, of Chicago, was charged in a criminal information Friday with one count of conspiracy to commit wire fraud, mail fraud and false statements. He faces up to five years in prison, a fine of up to $250,000 and other penalties.



Sandi Jackson was charged with one count of filing false tax returns. She faces up to three years in prison, a fine of up to $250,000 and other penalties.

Jackson is accused of diverting $750,000 in campaign funds for personal use.

Federal authorities allege that Jackson Jr. used campaign funds to purchase a $43,350 men's gold-plated Rolex watch, $5,150 worth of fur capes and parkas, and $9,588 in children's furniture. The purchases were made between 2007 and 2009, according to the criminal information, which authorities noted is not evidence of guilt.

Other expenditures listed by prosecutors include $10,105 on Bruce Lee memorabilia, $11,130 on Martin Luther King memorabilia and $22,700 on Michael Jackson items, including $4,600 for a "Michael Jackson fedora."

Sandi Jackson is accused of filing incorrect joint tax returns with her husband for calendar years 2006 through 2011, reporting income "substantially less than the amount of income she and her husband received in each of the calendar years," with a substantial additional tax due.

Her attorneys released a statement saying she has "reached an agreement with the U.S. attorney's office to plead guilty to one count of tax fraud."

Jackson stepped down from the House of Representatives on Nov. 21, citing both his poor health and an ongoing federal probe of his activities. In a statement then, he said he was doing his best to cooperate with federal investigators and to accept responsibility for his "mistakes."

In a statement Friday, Jackson said:

"Over the course of my life I have come to realize that none of us are immune from our share of shortcomings and human frailties. Still I offer no excuses for my conduct and I fully accept my responsibility for the improper decisions and mistakes I have made. To that end I want to offer my sincerest apologies to my family, my friends and all of my supporters for my errors in judgment and while my journey is not yet complete, it is my hope that I am remembered for the things that I did right."

-- Katherine Skiba, Chicago Tribune

To read the entire Chicago Tribune article, click here.