Lava flow destroys at least 35 homes on the Big Island of Hawaii


PAHOA, Hawaii — At least 35 structures have been destroyed after the Kilauea volcano erupted on Hawaii's Big Island last week, Hawaii Civil Defense said Monday. Lava and hazardous fumes are still spewing, officials said, four days after the volcano erupted.

Residents of Leilani Estates are still being allowed to briefly return to gather medicines, pets and other essentials.

No children are allowed in the area.

Officials said molten rock, toxic gas and steam have been bursting through openings in the ground created by the volcano.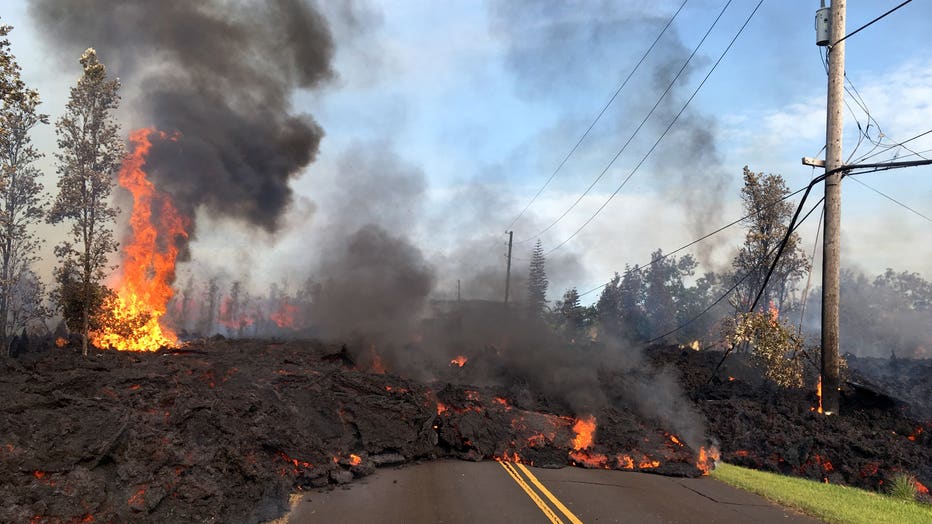 Officials on Hawaii's Big Island say what started out as a small spattering of lava from the ground only took minutes to become cascading fountains.

U.S. Geological Survey volcanologist Wendy Stovall says lava fountains spewed as high as 230 feet (70 meters) into the air Saturday night only 15 minutes after the initial eruption from a new fissure.

Hawaii County spokeswoman Janet Snyder says only one fissure has active lava flowing, though at last count a total of nine vents had opened up as of 9:30 p.m.

Snyder says it's all part of a little chain of events and that these "breakouts" are following a path.

She says the plan remains to allow some evacuated residents to return to Leilani Estates to retrieve important items, though that is subject to change.