USCG: Tug pilot fell asleep before barge hits three homes in Gig Harbor
GIG HARBOR, Wash. - Damage resulting from a maritime incident Monday morning near Gig Harbor is estimated to range higher than $250,000, according to the United States Coast Guard.
The agency released updated information Monday evening revealing the person piloting the tugboat may have fallen asleep at the helm. 
Petty Officer Trevor Lilburn told Q13 News the vessels were owned by Island Tug & Barge Company out of Seattle. The barge was empty at the time of the collision and the vessels were able to return north to be inspected.
General Manager Erik Ellefsen told Q13 News four people were aboard the vessel at the time of collision. The person piloting the tugboat has decades of experience, Ellefsen said, and likely saved property and lives thanks to their quick actions. 
The USCG said the incident is considered a Serious Marine Incident and a thorough investigation would occur. 
"Incidents such as this are very concerning," Cmdr. Nathan Menefee, Chief of Prevention at Sector Puget Sound, said in an evening press release. "Fortunately, nobody was injured, and the towing vessel did not release fuel or oil into the water. Sector Puget Sound will investigate the incident to determine the cause and whether additional actions are necessary to prevent a similar incident in the future." 
Crews responded Monday morning to a large barge that ran aground and hit three homes in Gig Harbor. 
According to Gig Harbor Fire, it happened off Sunrise Beach Drive.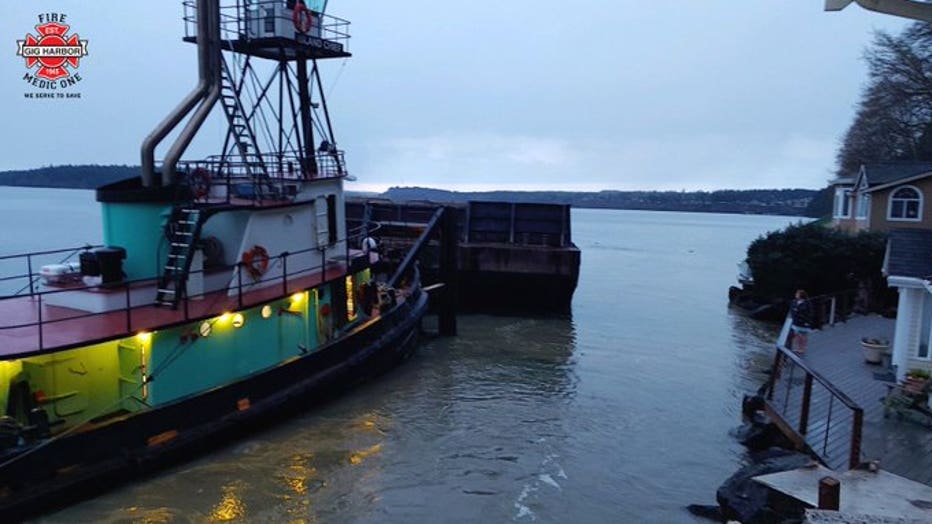 Barge hits homes in Gig Harbor (Photo courtesy Gig Harbor Fire)
No one was injured, but a rescue team is providing "stabilization" to one home. 
It's unclear what caused the barge to veer into the homes.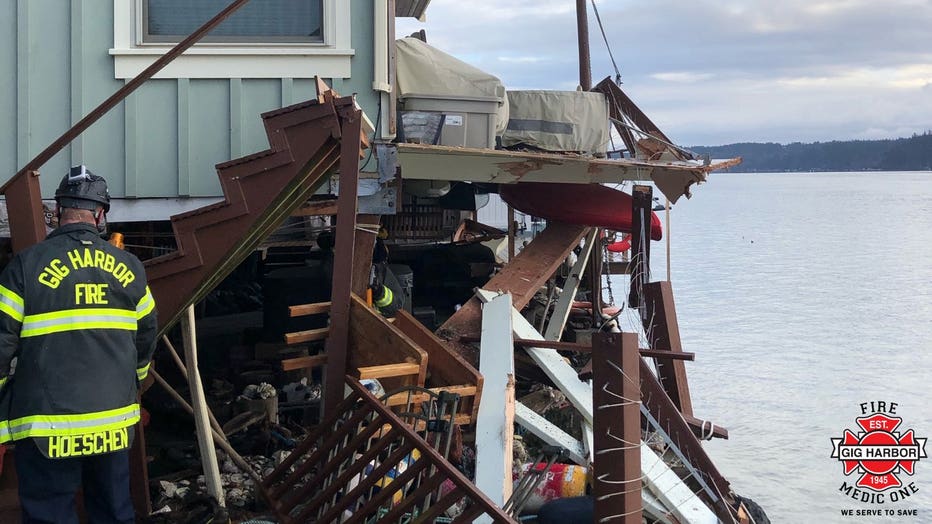 Barge hits homes in Gig Harbor (Photo credit: Gig Harbor Fire)
The Coast Guard and the Pacific County Sheriff's Office are on scene as well. 
Ellefsen said he is grateful nobody was injured during the incident and said his company would be in contact with homeowners to ensures repairs could be completed as soon as possible.