Landslide to keep I-84 eastbound in Oregon closed over weekend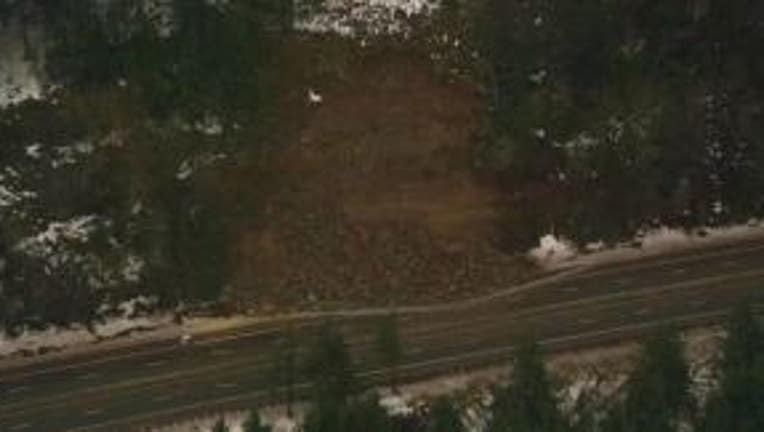 HOOD RIVER, Ore.  (KPTV) -- Boulders from a large landslide came crashing down onto Interstate 84 and damaged a car on the freeway Wednesday night near Hood River.

Daniel Koopman, who was driving to Eastern Oregon at the time, survived the crash. In fact, he wasn't even injured.

"Once (I was) in that debris cloud, I had no vision whatsoever," Koopman said. "It was just impact. It was over in a second. Then you just want to get out. It was pretty scary."

The center barrier was pushed into the westbound lanes by the landslide.

"I looked out of the corner of my eye ... I knew exactly what it was and I knew I had pretty much just one second," Koopman said of the landslide. "It was on me. And I was jamming my foot on the brake."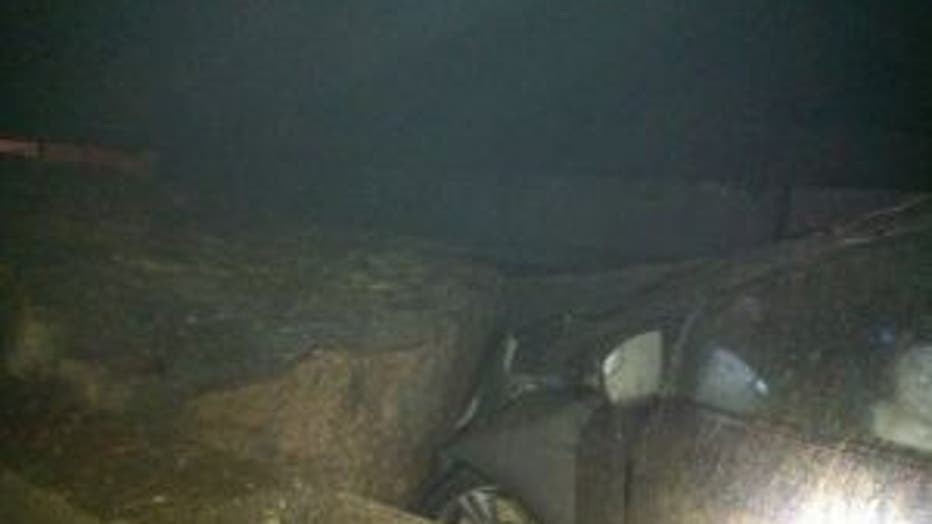 View of car damaged by huge boulder from landslide on Interstate 84 in Oregon Wednesday night. (Photo: Oregon State Police)


Emergency crews responded to the scene at around 8 p.m. near milepost 61 just west of Hood River. A backup of stranded drivers started to form shortly after the slide.

"We're sitting here in the dark and you can hear rocks flying down the hill up above us, but there's nowhere for us to go right now," said Travis Rockwell, who was stuck on I-84 on Wednesday. "We could either jump across the other lanes of I-84 and hang out over in the trees or just stay here."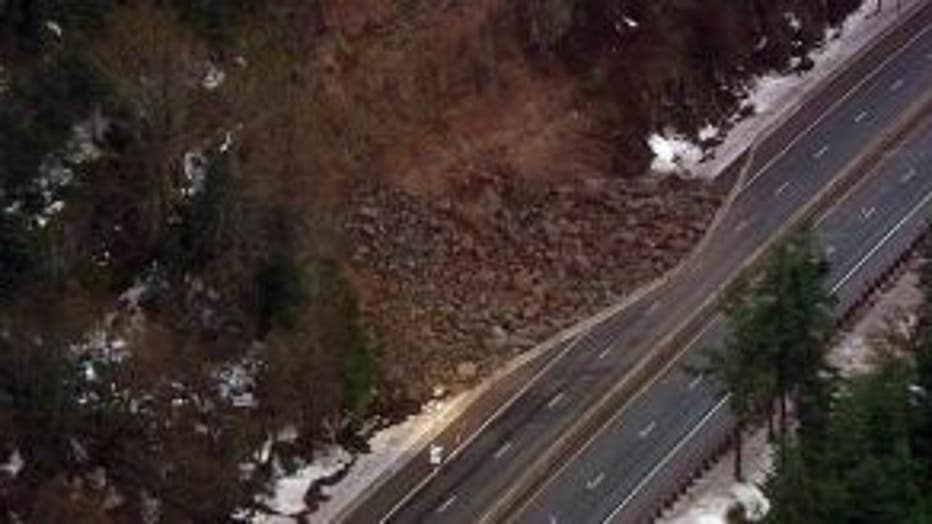 I-84 eastbound remains closed between Troutdale and Hood River while crews clean up the slide and experts evaluate the hillside.

A total of 2,000 cubic yards of debris fell from the hillside onto the south side of the road.

An ODOT spokesman said I-84 eastbound will be closed at the slide site over the weekend. The road will only reopen after the debris is cleared and ODOT can ensure the hillside is stable, according to officials.

ODOT hopes to reopen one eastbound lane of the freeway sometime Monday.

The best detour route is to take SR-14 in Washington state, though Washington State Patrol did report a second landslide on SR-14 at milepost 76 on Thursday morning. That landslide was quickly cleared.

Another alternate route is to take Highway 26 east to Highway 35, then north to I-84 to Hood River.

One westbound lane of I-84 remained open at the slide site as of Thursday afternoon.

ODOT decided to close the highway at the Troutdale exit in order to give drivers more detour options, said spokeswoman Kimberly Dinwiddie. Additionally, the Bridge of the Gods is not equipped to handle all of the detour traffic and could lead to longer delays, she said.