Landslide risk extreme in many parts of Puget Sound ahead of soaking fall storm
DUVALL, Wash. – The risk for landslides is now extreme in areas across Western Washington.

A local geology expert warns the risk for slides can increase in areas where the ground has already moved.

"The rain plays a role both as it's happening and immediately after but also for many days and months following," said UW Assistant Professor and geology expert Alison Duvall.

Duvall says the Pacific Northwest's landscape has all the ingredients to make the ground around us move and slide.

"Material that may have been just fine, totally stable, you add water into the mix, it may now be in our unstable regime," she said.




Trees and mud slid into a home near Edmonds on Thursday; a damaged gas line from that event forced the evacuation of dozens of families.

Back in April, half of Northeast 124th Street near Duvall collapsed. King County road crews have since re-engineered the hillside but Duvall says that's no guarantee it won't happen again.

"Once there's a landslide somewhere, there's a higher probability of there being a landslide there again," Duvall said.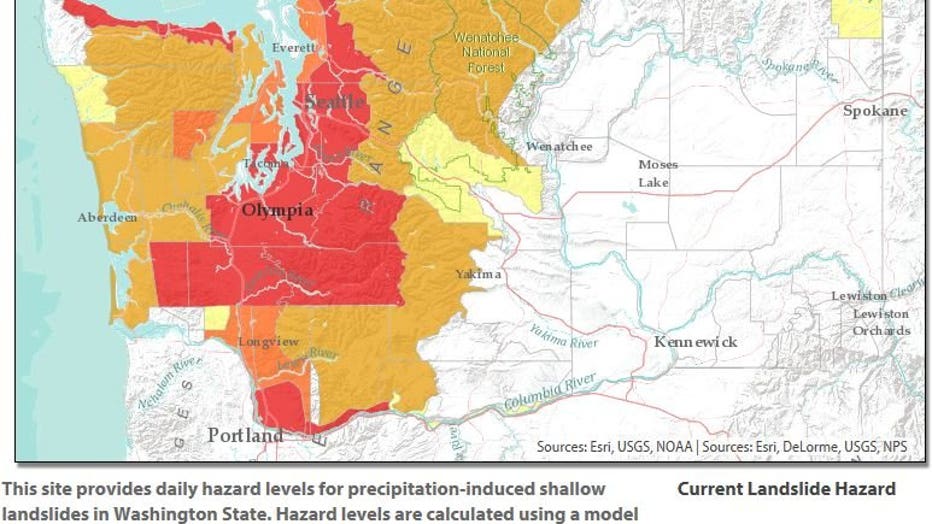 The state Department of Natural Resources says you can spot signs of shifting ground inside your home if you notice cracking walls, doors or windows harder to close, creaking or popping noises and seeing nails and light switches coming out from the walls.

And outside your house, signs that the ground is already moving could show as cracks in the ground or sidewalks, tilting trees and stretched-out or leaning utility lines.

DNR says if you notice signs of landslide, homeowners should evacuate and call local police.

"Make sure people are prepared and are aware of this risk so they don't turn into a disaster," said Duvall.

Also check your home or auto insurance policy because many don't cover damage from landslides or floods.

The NW Insurance Council lists recommendations for homeowners who live in areas prone to natural disasters.