Lakers' owner, self-made millionaire Jerry Buss dies at 80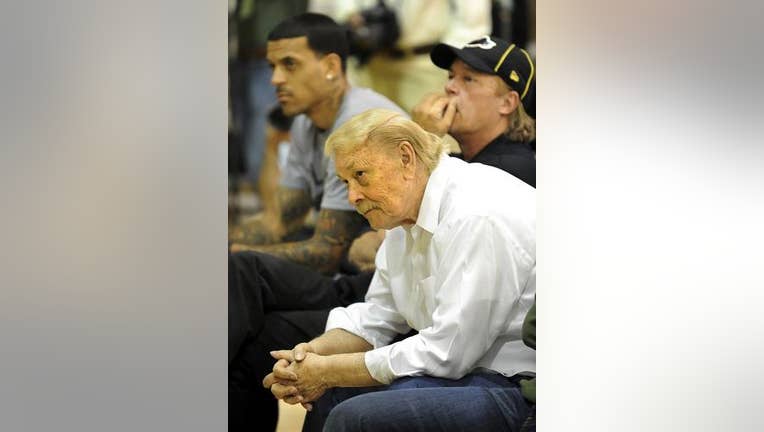 article


When Jerry Buss bought the Lakers in 1979, he wanted to build a championship team. But that wasn't all.

The new owner gave courtside seats to movie stars. He hired pretty women to dance during timeouts. He spent freely on big stars and encouraged a fast-paced, exuberant style of play.



As the Lakers sprinted to one NBA title after another, Buss cut an audacious figure in the stands, an aging playboy in blue jeans, often with a younger woman by his side.

PHOTOS: Jerry Buss through the years

"I really tried to create a Laker image, a distinct identity," he once said. "I think we've been successful. I mean, the Lakers are pretty damn Hollywood."

Buss died Monday of an undisclosed form of cancer at Cedars-Sinai Medical Center, according to his longtime spokesman, Bob Steiner. Buss was 80.

Lakers fans will remember Buss for bringing extraordinary success — 10 championships in three-plus decades — but equally important to his legacy was a sense of showmanship that transformed pro basketball from sport to spectacle.

Live discussion at 10:30: The legacy of Jerry Buss

"Jerry Buss helped set the league on the course it is on today," NBA Commissioner David Stern said. "Remember, he showed us it was about 'Showtime,' the notion that an arena can become the focal point for not just basketball, but entertainment. He made it the place to see and be seen."

His teams featured the likes of Kareem Abdul-Jabbar, Magic Johnson, Kobe Bryant, Shaquille O'Neal and Dwight Howard. He was also smart enough to hire Hall of Fame-caliber coaches in Pat Riley and Phil Jackson.

For the complete Los Angeles Times story, go here.